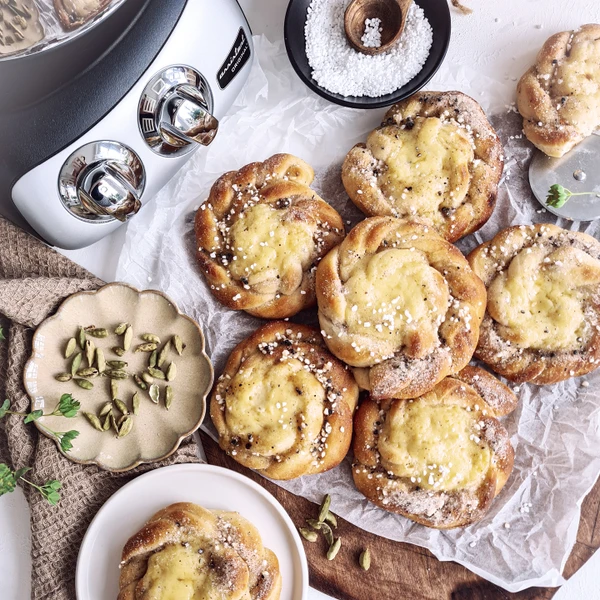 Ingredients
Cardamom sugar:
1 tbsp freshly ground cardamom

135 g sugar

1 tbsp vanilla sugar

mix cardamom with sugar and vanilla sugar
Dough:
50 g yeast

500 ml milk (preferably 3%)

1.5 tbsp freshly ground cardamom

200 g butter

280 g light syrup

1 egg

Approx. 1 kg flour

1.5 tsp salt
Vanilla:
5 eggs

135 g sugar

1/2 vanilla bean (scrape out the seeds and let the vanilla bean boil with)

2 tbsp cornstarch (Maizena)

1 g salt

400 ml milk (preferably 3%)
Vanilla buns
Vanilla buns with cardamom. Do we even have to tell you that these are incredible?
Follow these steps

Melt butter in saucepan and add milk, syrup, cardamom, salt

The dough liquid should be around 37 ° C (99 F)

Assemble the assistent with bowl, dough roller and dough knife

Add the yeast and then the dough liquid, start on low speed until the yeast dissolves.

Add a little flour at a time, on medium-low speed.

Then add more flour until you get a smooth dough that is preferably a bit sticky rather than too much flour.

It is important to work the dough for at least 10 -12 minutes so that gluten threads build up.

Leave to ferment for at least one hour with the bowl cover on the bowl so that the moisture is retained.

Then turn the dough upside down without processing and roll out a large rectangle.

Then cut centimeter-wide strips.

To form spins, take two strips and twist them together,

Then shape into a swirl and click vanilla cream in the middle.

leave to ferment once more for about 45 min

Bake at 225 ° C (437 F) for about 15 minutes.

Brush the buns with browned butter as soon as they come out of the oven and sprinkle with the cardamom sugar.

Vanilla

Whisk all the ingredients in a saucepan (add milk last).

Then heat to just before boiling point while stirring (must not start boiling)

Then simmer until it thickens.

Remove the vanilla bean and then allow to cool slightly until it is time to fill the buns.