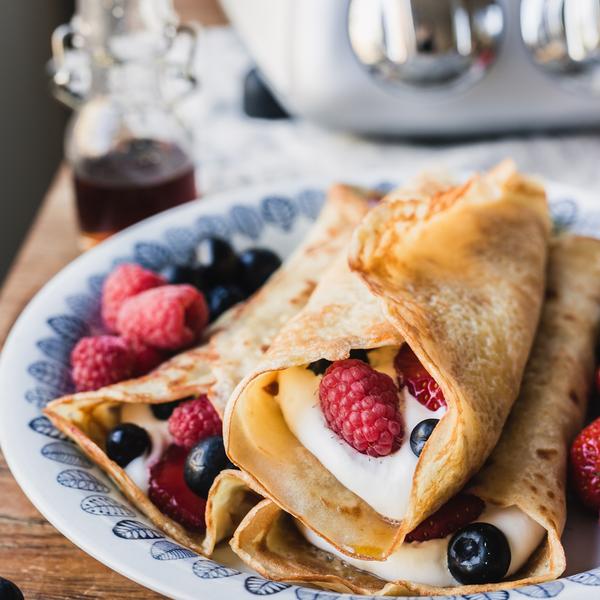 Ingredients
500 ml oat milk or other plant-based milk

200 g all-purpose flour

50 g sugar

¼ tsp salt

oil or butter for cooking

vegan whipping cream

fresh berries such as strawberries, raspberries and blueberries
Vegan crepes with berries
For breakfast, brunch or dessert.
Follow these steps

Assemble the Ankarsrum Assistent with the beater bowl and balloon whisks.

Pour the oat milk to the bowl.

Start the Assistent on low speed while you add the dry ingredients to the bowl: the flour, the sugar and salt.

Keep on whisking until a liquid smooth batter is formed.

Warm the oil or butter in a crepes pan and pour a thin layer of batter into the pan. Move the pan to make the batter into a round thin shape.

Cook for about 1-2 minutes per side or until the crepe is ready from the edges and easy to flip around. Cook the other side for about 1-2 minutes.

Add oil or butter to the pan and repeat until you have cooked all the crepes. Keep the crepes warm and soft by stacking them on a plate and covering them with a kitchen cloth after cooking.

Enjoy the crepes warm with vegan whipped cream and lots of berries!