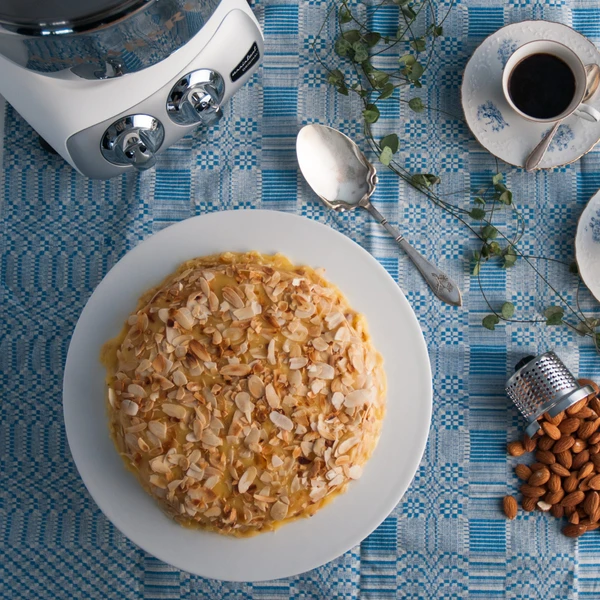 Ingredients
Cake
185 g

almond

150 g

sugar

egg whites

Butter for the parchment paper
Filling
6 g

egg yolks

150 ml

cream

150 g

sugar

185 g

butter
Topping
Almond cake
You must try this almond cake. Serve it with some lightly whipped cream.
Follow these steps

Assemble your assistent with grater accessory

Grate the almond for the cake and mix it with sugar.

Set oven to 180°C (356°F)

Draw three equal sized circles, 22 cm, on parchment paper.

Assemble you assistent with whisk bowl and balloon whisks

Separate the egg whites from the egg yolks.

Add the egg whites to the whisk bowl and whisk on high speed until soft peaks are formed. Then carefully add the almond/sugar mix and slowly blend with the egg whites.

Bruch the circles with melted butter and add the almond batter on top of them.

Bake the cake for about 15-20 minutes.

Loosen the cakes from the paper and let cool down.

Start with the filling and add egg yolks, sugar and cream into a pot.

Heat it up until boiling, stir constantly. Put aside and let cool down completely.

Roast the almond flakes in a frying pan.

Mount the cake with filling in between each layer and also cover the whole cake with the filling.

Last, add the roasted flaked almonds on the top.