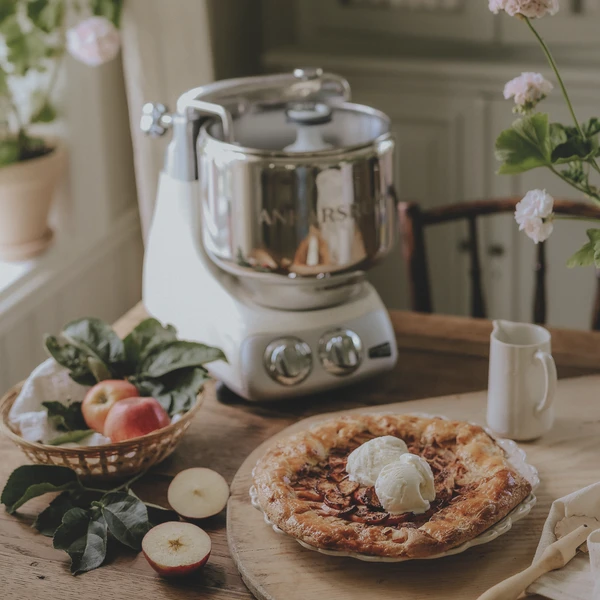 Ingredients
Dough
210 g all-purpose wheat flour

45 g sugar

2 tsp ground cardamom

½ tsp salt

150 g butter (room temperature)

3 tbsp lemon juice or cold water
Filling
4 - 5 small apples

3 tbsp light syrup
Brushing & Garnish
1 egg

33 g almond flakes

1 tbsp sugar
Apple galette
Galette – The perfect dessert to make with your apples from the garden.
Follow these steps

Assemble the Ankarsrum with Beater bowl and Cookie whisks.

Mix flour, sugar, cardamom and salt. Cut butter into pieces and add to flour mixture. Whisk until the dough is crumbly. Add lemon juice and whisk for 1-2 minutes. Knead dough by hand. Form dough into a disc, wrap in plastic wrap and let rest in the fridge for least 30 minutes.

Set the oven to 175°C convection (350℉). Roll out dough on parchment paper to a circle, about 3 mm thick. Use a large plate (around 27 cm) as a template and cut the dough around. If the dough sticks to the rolling pin, place sheet of parchment paper on top of dough and continue rolling.

Transfer dough on a baking sheet lined with parchment paper.

Rinse apples. Cut into thin slices and place on top of dough, leaving about 3 cm (1 in) edge. Drizzle syrup on top and fold over the edge.

Brush edge with beaten egg and sprinkle with almond flakes and sugar.

Bake in the center of the oven for 25 - 30 minutes, until edge is lightly browned. Serve galette lukewarm with vanilla ice cream, custard or sauce.