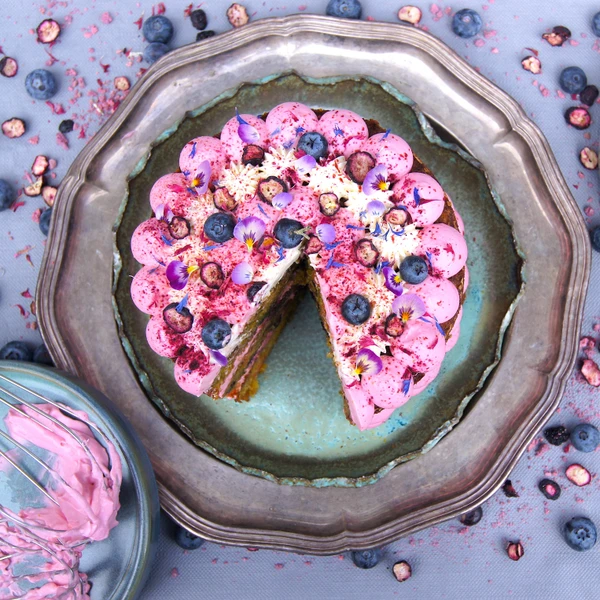 Ingredients
Cake
3 normal sized

Beetroots

240 gram

flour

180 gram

sugar

1 tsp

bicarbonate

1 tsp

vanilla sugar

70 gram

grated coconut

55 gram

walnuts (chopped)

0.5 tsp

salt

125 ml

neutral oil

2 normal

eggs

140 gram

crushed pineapple
35 g grated coconut + oil to the bunt pan
Frosting
200 gram

smetana or sour cream

200 gram

cream cheese

180 gram

icing sugar

1 normal

lemon (zest and juice)

3 tbsp

beetroot juice
Decoration
35 gram

fresh blueberries

Fresh flowers
Beetroot cake by Linn Utbult
Beautiful Beetroot cake that will impress on any party!
Follow these steps

Set oven to 175℃ (347F). Sprinkle 3 bunt pans (15-18 cm in diameter) with oil and grated coconut.

Assemble your assistent with vegetable cutter and fine course drum. Grate the beetroots. (Save 3 tbsp for the frosting)

Assemble your assistent with whisk bowl and balloon whisks.

Whisk the egg and sugar to a fluffy batter. Add the oil.

Mix the dry ingrediencies and add to the batter. Also add the beetroots, chopped walnuts, grated coconut and crouched pineapple. Blend smoothly on low speed.

Add the batter in the three bund pans and bake in the middle of the oven for 30 minutes. Let cool down completely.

Assemble the assistent with whisk bowl and cookie beaters.

Whisk the cream cheese and smetana with icing sugar, lemon zest and juice.

Same 1/5 of the frosting in a separate bowl.

Squeeze out the juice from the beetroot you saved. Add the juice with the other 4/5 of the frosting and whisk until you have a lovely pink frosting. Pour the frosting into a piping bag.

Place one base on a plate and pipe pink frosting on top of it. Repeat one more time.

On the top layer, mix pink and white frosting and decorate with blueberries and flowers.