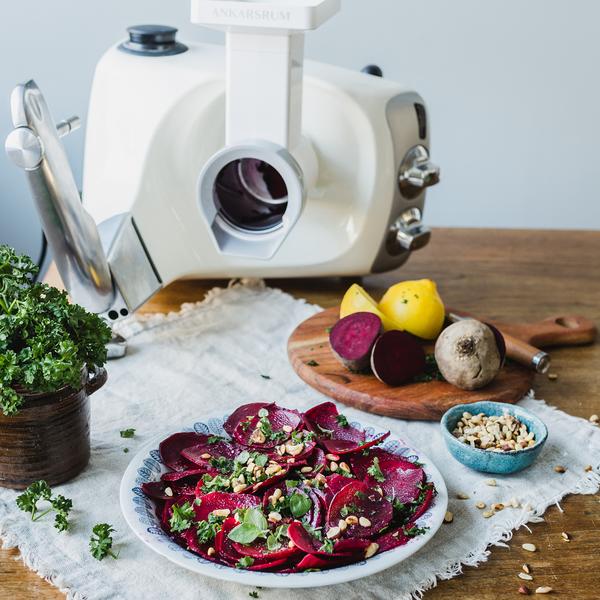 Ingredients
4 raw beetroots (about 400 g altogether)

1 lemon

3 tbsp olive oil

¼ tsp garlic powder

generous sprinkles of Maldon salt or similar

sprinkle of black pepper, to taste

sprinkle of chili flakes, to taste

a handful of parsley and oregano, chopped

50 g toasted pine nuts and chopped nuts such as hazelnuts and walnuts
Beetroot carpaccio
The perfect Vegetarian starter that is both beautiful and delicious.
Follow these steps

Peel the beetroots with protective gloves on.

Assemble the Assistent with the citrus press.

Press 1 lemon and set the lemon juice aside.

Assemble the Assistent with the vegetable cutter.

Place the peeled beetroots one at a time in the cutter and slice into thin slices.

Spread the beetroot slices on a plate and pour the lemon juice on top.

Drizzle with olive oil, add garlic powder, salt, black pepper and chili flakes. Mix the ingredients gently and let them marinate for about 30 minutes.

Add the herbs and toasted nuts on top and serve as an appetizer or a side salad.