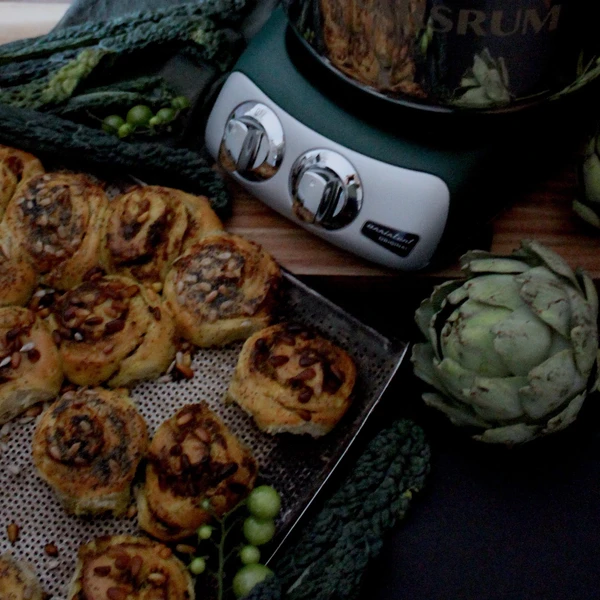 Ingredients
Dough
30 gram

organic yeast

600 ml

water, 37 degrees

3 tbsp

olive oil

2 tsp

salt

1.5 tbsp

dried onion (or oregano)

90 gram

rye flour

90 gram

pine flour

675 gram

wheat flour
Filling
100 gram

tapenade on artichoke

50 gram

room temperature butter

25 gram

grated parmesan

1 pinch

flake salt
Brushing
2 st

egg yolks

2 tbsp

milk

2 pinches

salt
Garnish with sunflower seeds
Bread with pesto and artichoke
A perfect bread that can be eaten as it is since it is packed with delicious filling. It is also incredibly good to dip in a musty hot soup now that autumn is in full swing.
Follow these steps

Assemble the assistant with the bowl and dough roller.

Crumble the yeast into the bowl and pour on some of the water. Stir until the yeast has dissolved, add the rest of the water and add the onion, oil and salt.

Pour the flour into batches and work together into a smooth dough in your assistant, about 5 - 10 minutes until you have a glossy dough. Pour out the dough and knead for about 5 minutes.

Let the dough rise under the bowl cover while you make the filling, about 30 minutes.

Mix the filling, set aside.

Roll the dough into a rectangle and wide on the filling. Roll it the same way you do classic cinnamon rolls. Then cut them bun by bun.

Cut about 3 - 4 cm per bun, about 15 buns per roll. Place baking paper on a plate and freely style a silky shape with all your buns. Keep in mind that there is a need for a space between the buns, as the buns almost double their size.

Allow to rise for about 45-60 minutes under a cover, put oven to 200 °C (392 °F).

Assemble the assistant with the beater bowl and balloon whisks.

Mix egg yolks with milk and salt. Brush carefully on each bun and garnish.

Bake for about 30 minutes in the middle of the oven. To retain the crispy crust, you toss on a back cloth after baking.