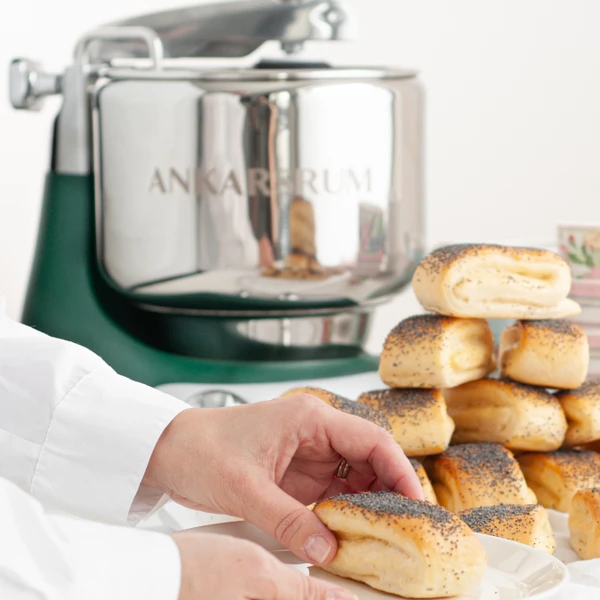 Ingredients
50 g yeast

350 ml milk

2 egg

1 tbsp sugar

1 tsp salt

600-650 g flour

125 g butter
Topping
1 egg

1 tbsp blue poppy seeds
Breakfast bread
The capacity of Ankarsrum Assistant is 1500 watt. When baking 5 kg of dough you need a motor that can work hard and long!
Follow these steps

Heat the milk a little bit and dissolve the yeast.

Assemble the assistent with bowl, dough knife and dough roller.

Add eggs, sugar, salt and most of the flour and start the machine.

Add the butter in the bowl and start at low speed, set timer for 5-10 minutes.

Put on the dough lid and allow to rise for 30 min.

Pick up the dough on a floured table and divide it into two parts. Roll out to rectangles, about 20 x 40 cm.

Brush the dough with whisked eggs and fold them three times in length.

Cut out about 4 cm wide pieces and place on a baking pan with baking sheet paper.

Cover and let it rise for 30 min.

Set the oven to 225 °C (437 °F).

Brush the bread with eggs and sprinkle with poppy seeds.

Bake in the center of the oven for 6-7 minutes, allow to cool on the baking pan.