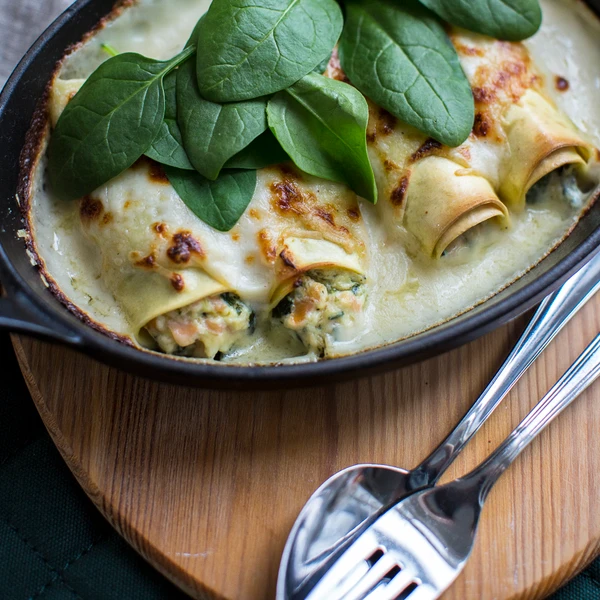 Ingredients
LASAGNE, 12 SHEETS 1/2 batch of pasta dough
Filling
8 ounces

fresh baby spinach (200 g)

Olive oil

150 gram

cold smoked salmon

1 cup

ricotta (250 gram)

1 cup

egg yolk

40 gram

grated parmesan cheese

Zest of 1 lemon

Salt & pepper
Cheesesauce
50 gram

butter

30 gram

flour

500 ml

milk

40 gram

grated parmsan cheese

Flake Salt

Freshly ground pepper
TOPPING 1/2 cup + 2 tbsp. grated parmesan cheese
Cannelloni with salmon
A true everyday favourite – perfect for the lunchbox!
Follow these steps

Fettuccine

Turn the Assistent on its side and attach the pasta roller for lasagne.

Divide the pasta dough into smaller pieces and roll each part into oblong strips, about 1/8-1/4 inch (8 mm) thick and 4-5 inches (8-10 cm) wide.

Start the Assistent at low speed and feed the dough into the lasagne roller. Start at the widest setting, and run your lasagne sheets through, adjusting the setting down one notch every time you begin to re-roll the sheets, until desired thickness is achieved.

Let the lasagne sheets rest on a moist towel so they don't dry out.

Filling & sauce

Preheat oven to 225°C (425°F).

Saute the spinach quickly in olive oil. Let cool and chop finely.

Cut the salmon into small pieces.

Blend all the ingredients for the filling and season with salt and pepper.

Melt the butter for the cheese sauce in a saucepan. Stir in the flour and whisk in the milk. Let the sauce simmer for about 5 minutes while stirring.

Remove the sauce from the heat and mix in the cheese. Season with salt and pepper.

Distribute the filling on the lasagne sheets and roll together from the long side. Cut each roll into two pieces and place them in a greased, ovenproof dish.

Pour the cheese sauce over the pasta and sprinkle with parmesan

Gratinate in the middle of the oven for about 25 minutes.

Topping

Turn the Assistent on its side and assemble with meat mincer and grater attachment. Place the feeder tray on the mincer.

Start the Assistent and grate the desired amount of parmesan cheese.