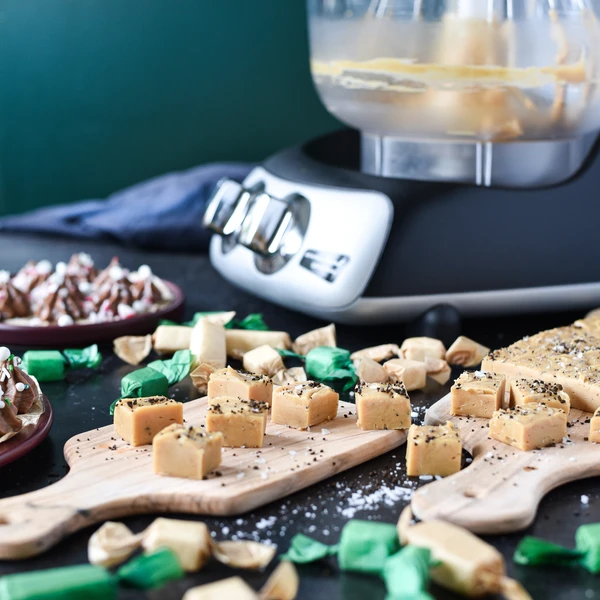 Ingredients
300 g cream

270g sugar

70 g light syrup

1 pinch salt

1-2 tsp licorice powder, depending on what you like

½ tbsp freshly ground cardamom

25 g room temperature butter
Garnish
Licorice granules

Sea salt

Freshly ground cardamom
Cardamom and Liquorice Fudge
Make this cardamom and Licorice Fudge as a Christmas treat or homemade gift.
Follow these steps

Boil cream, sugar, syrup and salt in a saucepan. Add licorice powder and cardamom, cook until you reach 118 °C (244 °F). Stir occasionally, not too much.

Prepare a baking pan with baking sheet paper, approx. 20 * 20cm.

Assemble the assistent with beater bowl and balloon whisks.

Pour the batter into the beater bowl and whisk with the balloon whisks for about 2 minutes to cool down a bit before adding the butter in two batches. Whisk on medium speed until the temperature has dropped to 50 °C (122 °F), pour the batter into the baking pan and sprinkle with licorice granules, cardamom and sea salt.

Allow to cool completely and then place in the fridge until you want to serve the treats. Store in a tight jar in the fridge. Enjoy!