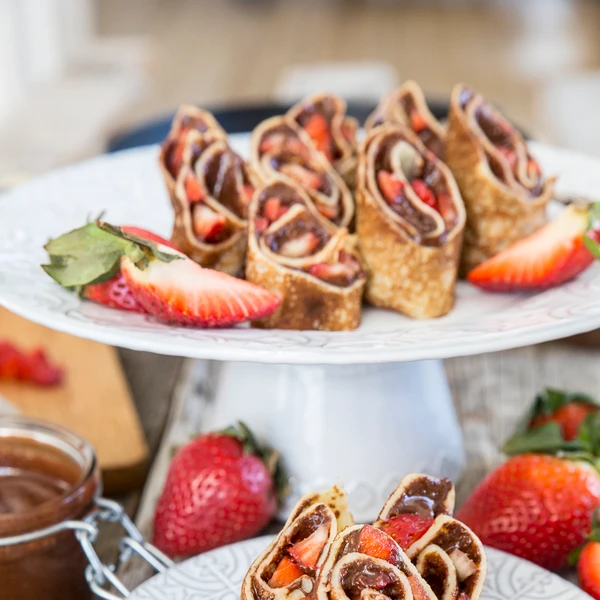 Ingredients
1.25 cup

all-purpose flour (150 g)

2 tsp

sugar

0.5 tsp

salt

2.5 cups

milk (600 ml)

3 st

eggs

3 tbsp

salted butter

4 tbsp

salted butter or oil, for frying
Filling
Hazelnut spread

strawberries
Crêpes with strawberries
Crêpes are thin pancakes that originated in France. They are an excellent way to end a dinner. For a crispier crêpe, let the batter rest one hour before using.
Follow these steps

Assemble the Assistent with the beater bowl and balloon whisks.

Add flour, sugar and salt. Start the Assistent at medium speed.

Add 1/3 of the milk and whisk till a smooth batter forms.

Add the rest of the milk as well as the eggs, and mix until all is blended.

Melt the 3 tbsp. butter and add it to the batter.

Let the crêpe batter stand for 10 minutes to allow the flour to absorb the liquid.

Heat a regular frying pan or a crêpe pan over medium-high heat. Use a little of the 4 tbsp. butter or oil to coat the bottom of the pan. Use a small ladle to pour about 1/4 cup crêpe batter into pan. Swirl pan to spread batter out to desired size of crêpe. Cook 1-2 minutes and then carefully flip over with a spatula and cook for 1-2 minutes on other side. Repeat with remaining batter, using a little oil or butter to prevent sticking as necessary.

Slice the strawberries. Spread the hazelnut spread evenly on the crêpes and top with strawberries. Roll and cut into small rounds.