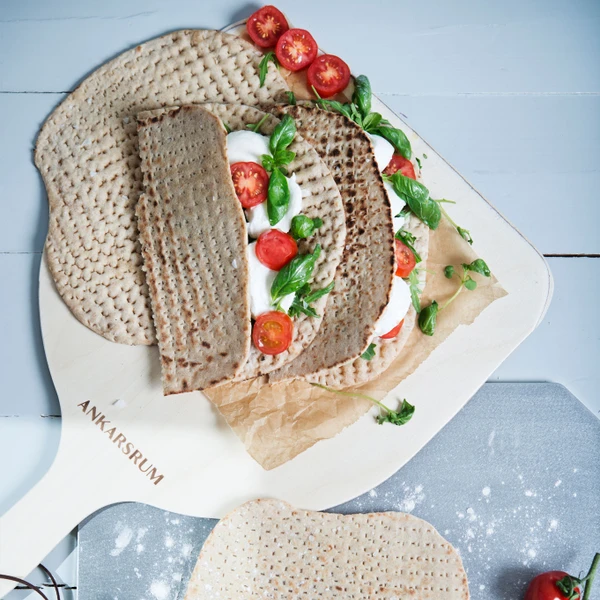 Ingredients
Feed sourdough:
50 g sourdough starter

130 g water

70 g graham flour/ryeflour
Baking
250 g bubbling sourdough

400 g lukewarm milk

1 tsp bread spices (fennel & anise)

70 g syrup (light)

15 g salt

550 g flour

200 g graham flour

50 g butter, roomtemperature
Flatbread on baking steel
Soft flatbread on sourdough
Follow these steps

Feed your sourdough about 8 hours before baking. When it is bubbly, mix it with milk, spices, syrup and salt in the bowl.

Assemble the assistent with bowl, dough roller and dough knife. Add flour and mix with the sourdough. Add butter and knead for about2-3 minutes on low speed. Let it rest for 1 hour.

Knead the dough with the dough roller for a few minutes, add the bowl cover and let the dough rise for 3 hours.

Preheat your baking steel for 1 hours before baking the flatbread. Preheat the baking steel at a high position in the oven and maximum heat, with the grill element switched on.

Divide and form the dough into 20 dough balls. With help of a bit of flour and a rolling pin, roll into a flat bread. Finish by using a knobbly rolling pin (Swedish kruskavel) to make a pattern.

Bake the flat breads approx20 seconds on your preheated baking steel.

Eat with your favorite toppings!