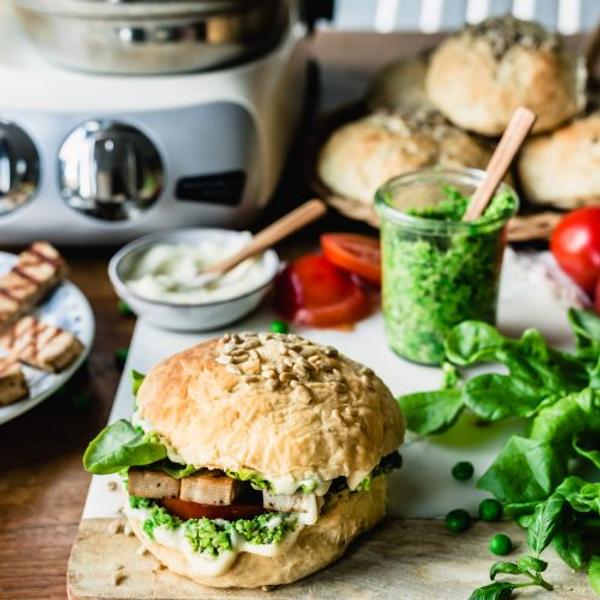 Ingredients
100 gram

butter (room temperature)

450 ml

Oat milk or any plant-based neutral milk

1 tbsp

sugar

11 gram

dry yeast

1 tsp

salt

750 gram

flour

Water to brush the buns and sesame seeds / sunflower seeds on top
Homemade burger buns
Impress your guests by making your own homemade burger buns for the barbecue.
Follow these steps

Assemble the assistent with bowl, dough roller and dough knife.

Warm oat milk to 42 °C (108 °F) and add to the bowl. Note: the bowl can be cold so you might have to warm the milk more.

Add sugar and salt and mix on medium speed.

Sprinkle dry yeast on the top and let set for a few minutes.

Add ¾ of the flour little by little while mixing on low-medium.

Add the butter and add the rest of the flour.

Knead on low-medium speed for 8 minutes.

Cover the bowl and let dough rise for 1 hour.

Place dough on a well-floured surface. Roll the dough into 8 large buns. Add more flour if needed but try to keep the dough very soft.

Place buns on a baking sheet paper, cover and let rise for 30 minutes.

Preheat oven to 200 °C (392 °F).

Brush burger buns with water and sprinkle seeds on top.

Bake in the oven for 15-20 minutes or until the top of the bun gets golden brown.

Let cool for a while, cut in half and make a burger!