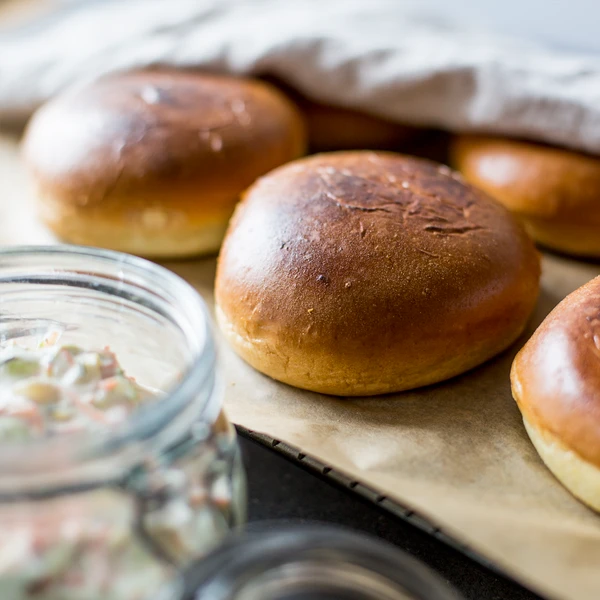 Ingredients
0.5 l

milk

50 gram

fresh yeast

1.5 tsp

salt

2 tsp

sugar

720 gram

strong wheat flour

50 gram

softened butter
Brushing
Homemade hamburger bread
Homemade is the best! This also goes for hamburger bread.
Follow these steps

Assemble the assistent with bowl, dough scraper and dough roll.

Heat the milk to 37°C (98°F).

Crumble the yeast into the bowl, add the milk and start the assistent with the dough roll right next to the edge at low speed until the yeast dissolves.

Add salt, sugar, flour and finally add the butter in small pieces. Possibly help the assistent get started by pulling the arm toward the centre a few times.

Lock the dough roll 2–4 cm from the edge, increase to average speed and let the assistant work for about 5 min. Use the timer.

Cover the bowl with the lid and let the dough rise for about 40 min.

Put the dough on the baking surface and flatten it to make it about 1–1,5 cm thick.

Take out round breads with e.g. a glass and place them on a baking sheet lined with parchment paper.

Let rise under a towel for 25 min.

Preheat the oven to 225°C. (437°F)

Brush with egg and bake in the oven 8–10 min.

Allow to cool on a grid under a towel.