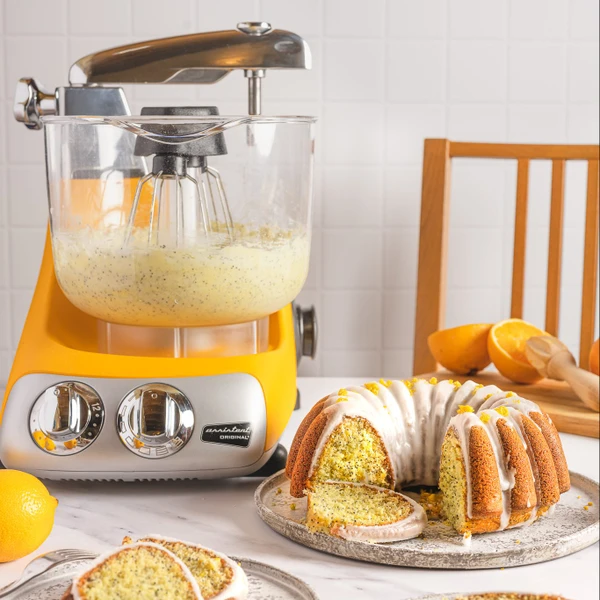 Ingredients
210 g flour (tipo 00)

1 tsp baking powder

½ tsp bicarbonate

3 tbsp. poppyseed (27 gram)

125 gram room tempered butter

3 egg

225 g sugar

3-4 tbsp orange juice

The zest of two medium sized washed organic lemons

100 ml Greek yoghurt
Lemon-glaze:
200 g icing sugar

2-3 tbs lemonjuice
Recipe Lemon cake
Lemon & orange bundtcake with lemon icing
Follow these steps

Turn on the oven to 175° C

Whisk the butter together with the sugar

Add one egg at a time

In a separate bowl, mix flour, with baking powder, bicarbonate, and poppyseed

Pour the flour into the Assistant and whisk on the slowest speed

Add the yoghurt, the orange juice and the lemon zest

Pour the batter in a buttered and floured mold (approx. 23 cm I diameter and that can contain max 2,4 litres)

Put the cake into the lower part of the oven and leave it for about 35-40 minutes (check with a stick if its baked) and then leave it to cool on a cooling rack (remove it from the mold after 10 min).

When the cake has cooled down, mix the icing sugar together with the lemon juice and drizzle over the cake.