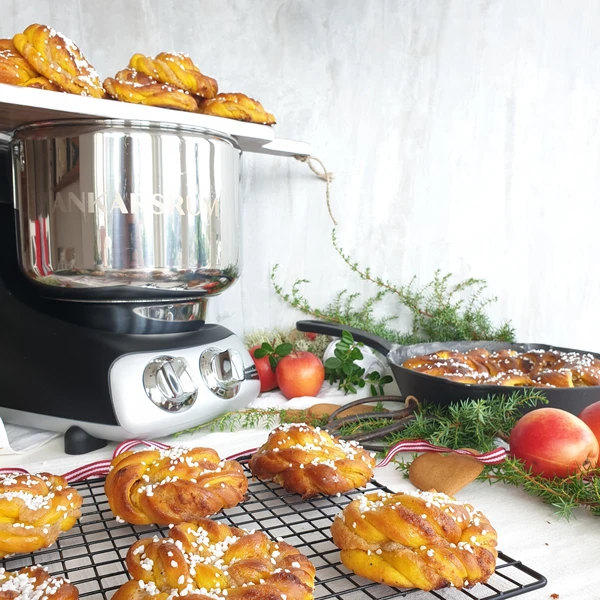 Ingredients
Dough
250 ml cream (with vanilla)

250 ml water

125 g butter (melted)

50 g yeast

1 tsp salt

210 g light syrup

1 tsp freshly ground cardamom

1 g saffron

840-900 g Flour
Filling
200 g almond paste

125 g room temperature butter

1,5 tbsp vanilla sugar

1,5 tbsp Cornstarch
Saffron buns with almond paste
Bake with saffron this Christmas. Here is a recipe for saffron buns filled with almond paste. You just must try them!
Follow these steps

Melt butter and add the cream + water heat to about 37 °C (99 °F).

Assemble the assistent with bowl, dough knife and dough roller.

Crumble the yeast in the dough bowl and add the dough liquid.

Add saffron, cardamom, salt and syrup.

Mix the yeast and then add half of the flour, run the mixer at half speed for a few minutes.

Knead until the dough is glossy and begins to loose from the edges

Cover with bowl cover and leave to rise for about 1-1.5 hours.

In the meantime, prepare the filling

Filling

Assemble the assistent with beater bowl and balloon whisks.

Whisk the room temperature butter with vanilla sugar and cornstarch.

Then add the almond paste and whisk together to a smooth batter.

Assembly of buns

Turn the finished dough upside down on a floured baking sheet.

Roll out a large square.

Add the filling evenly.

Then fold in half so that you get a rectangle with all the filling in the middle. Now take a knife / pizza slicer and cut strips. Twist the strips, then spin into buns. Bake at about 200 °C (392 °F). As soon as you remove the buns from the oven, brush with syrup and sprinkle with sugar.