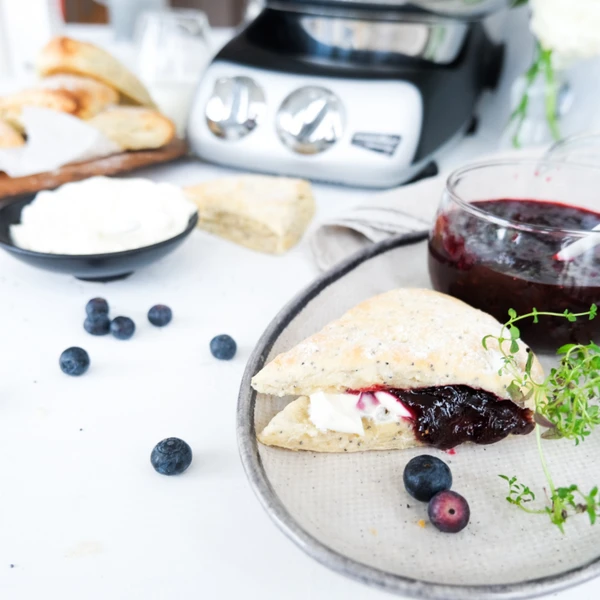 Ingredients
480 g flour

1 tbsp baking powder

1 tsp salt

1.5 tbsp poppy seeds (can be excluded)

125 g butter (refrigerator cold. Cut in small pieces)'

350 ml sour milk
Scones
Scones are perfect for both breakfast, brunch and afternoon tea. Serve with your favorite toppings.
Follow these steps

Assemble the assistent with bowl, dough knife and dough roller.

Set oven at 225 °C (437 °F)

Add all the dry ingredients in the bowl.

Add the butter in pieces and start at medium speed so that the butter is distributed.

Add sour milk a little at a time until the dough comes together.

Put the dough on a floured baking sheet paper and divide into two equal parts.

Shape into two round cakes and place on a baking pan with baking sheet paper.

Then cut each cake into six parts.

Bake in the oven at 225 °C (437 °F) until they are golden brown, about 15 -20 min.

Eat the scones hot directly from the oven, and if there are any left, put them immediately in the freezer and heat when you are hungry and they will taste like freshly baked again.