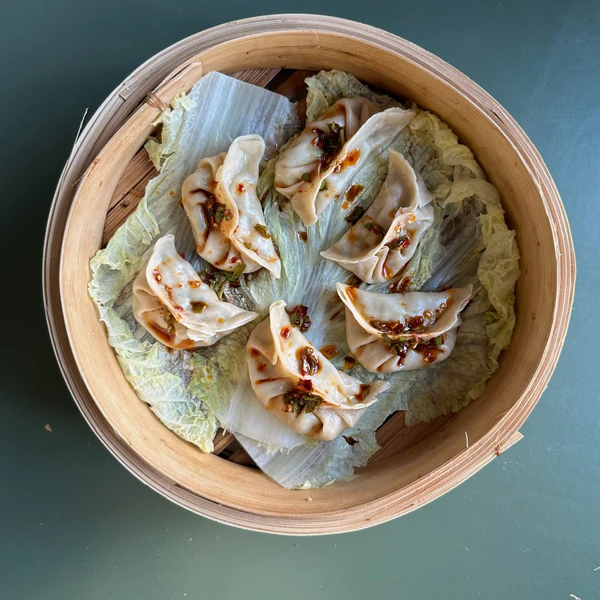 Ingredients
Dough:
440 g flour

½ tsp salt

265 g water
Filling:
400 g grated zucchini

500 g minced chicken

1 tbsp freshly grated ginger

1 tbsp soy sauce

2 tsp Chinese sesame oil

½ tsp salt

½ tsp white pepper

1,5 tsp cornstarch + extra for dusting
Sauce:
1 green onion

1 garlic clove

1 tsp freshly grated ginger

2 tbsp light soy sauce

½ - 1 black rice vinegar

½ tbsp sesame oil

2 tsp water

a pinch of sugar

optional: chili for added heat
Steamed Chicken and Zucchini Dumplings!
Delight in the harmony of flavors with this Steamed Chicken and Zucchini Dumplings recipe!
Follow these steps

Begin by preparing the filling. Combine the grated zucchini, minced chicken, freshly grated ginger, soy sauce, Chinese sesame oil, salt, white pepper, and 1½ tsp of cornstarch. Allow the mixture to rest in the refrigerator for 30 minutes.

Assemble the Assistent with stainless steel bowl, dough roller and dough knife.

For the dough, add flour, salt and water to the bowl and mix until well combined. Knead for 5 minutes, then let it rest for 20 minutes. Knead again for additional 5 minutes followed by 30-minute rest.

Assemble the Assistent with the Pasta Roller Lasagna. Divide dough into 4 equal pieces.

Use the Pasta Roller Lasagna to create thin sheets of dough (thickness 4).

Using a glass or cookie cutter, cut out 60 dough circles about 8 cm (3") in diameter. Lightly dust both sides with cornstarch to prevent sticking. Stack and cover them to prevent drying.

Place about 1-2 tsp of the prepared filling in the center of each dough circle. Fold in half and crimp edges for the classic dumpling shape.

Arrange dumplings in a steam basket. Fill a saucepan with enough boiling water for steaming and insert the steam basket with dumplings. Cover and steam dumplings for about 8 minutes or until the chicken is thoroughly cooked.

While dumplings are steaming, prepare the sauce. Combine all the ingredients in a bowl. Serve cooked dumplings hot with the dipping sauce.

Enjoy your delicious homemade steamed chicken and zucchini dumplings!