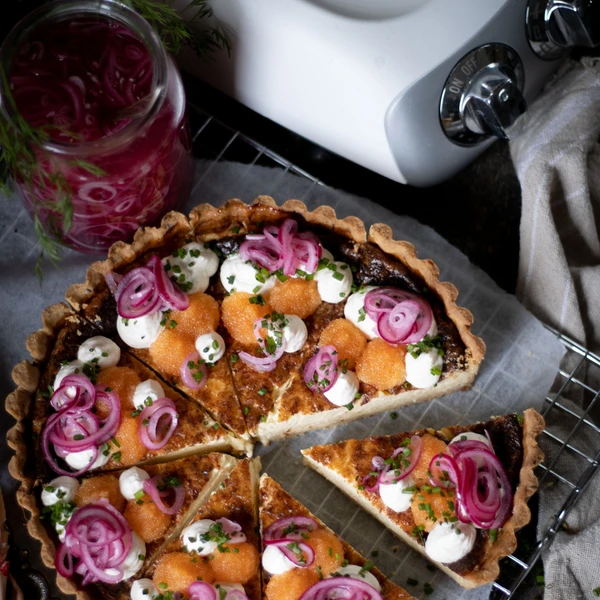 Ingredients
Pie dough
210 g flour

3 tbsp cold water

150 g diced butter

1 tsp ground cumin
Filling
4 eggs

300 ml cream

100 ml milk, 3%

300 g grated Västerbotten cheese

1 tsp honey

Salt and black pepper
Decoration
1 can of sour cream, whipped (Smetana)

Whitefish roe

Pickled red onion

Chopped chive
A summer pie
A Swedish summer classic. Pie with cheese, Västerbottenost, and roe.
Follow these steps

Assemble the assistent with the beater bowl and cookie whisks. Add all the ingredients except for the cumin and mix on high speed.

Place the pie dough on a baking sheet paper. Add ground cumin, and work quickly together into a dough. Flatten and place in a bag, refrigerate for at least 30 minutes.

Roll out the dough with a rolling pin into a thin base and cover a baking pan, between 22-24 centimeters. Press to the edges and notch with a fork. Put the pie crust in the freezer for at least 30 minutes.

Set the oven at 200 °C (392 °F) hot air. Pre-bake the pie crust for 10-12 minutes in the middle of the oven. Then let cool slightly.

Make the filling: Assemble the assistent with bowl and balloon whisks. Quickly whisk eggs, cream and milk. Add Västerbotten cheese, honey, salt and black pepper, and mix again.

Fill the pie crust with the filling and bake in the middle of the oven for about 30-35 minutes.

Take out the pie and let it cool.

Decorate the pie with whipped sour cream (Smetana), roe, pickled red onion and chopped chives.