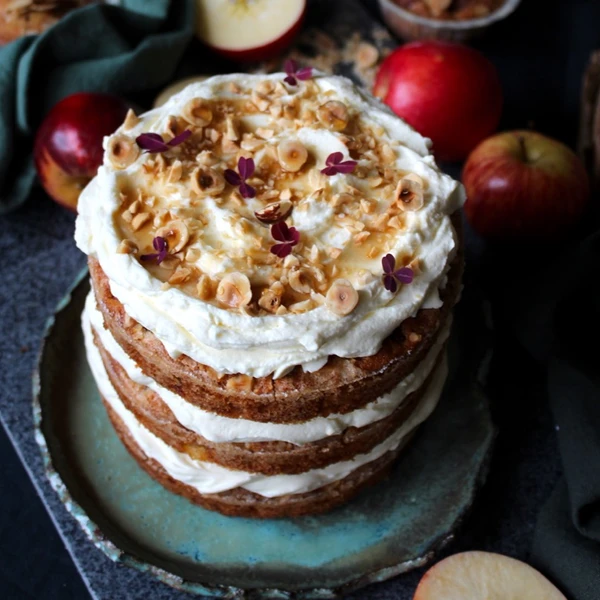 Ingredients
Cake:
150 g room temperature butter

180 g of caster sugar

3 eggs

180 g of wheat flour

1½ tsp baking powder

1 pinch of salt

1 tbsp cinnamon

1 tsp ground cardamom

½ tsp ground ginger

50 ml milk
Baking pans:
2 tbsp butter

45 g caster sugar or wheat flour
Filling:
5 red apples, preferably tart

45 g of caster sugar

2 tbsp cinnamon

1 tbsp vanilla sugar

1 tsp ground cardamom
Toppings:
250 g mascarpone

200 ml whipped cream

60 g icing sugar

juice of half a lemon, optional
Garnish:
65 g hazelnuts, plus additional for decorating

3 tbsp maple syrup
Apple cake with mascarpone cream and hazelnuts
An autumn cake full of lovely red apples, hazelnuts and smooth mascarpone cream. It can be made into a tall, layered cake or a large single layer. Depending on the season, the apples can be replaced with berries.
Follow these steps:

Thinly slice the apples with the skin on, place them in a bowl and sprinkle with sugar, cinnamon, vanilla sugar and cardamom. Mix around and set aside, let the apples marinate for a while.

Grease and flour three small springform pans (12 -15cm) or one large one. Sugar can be used instead of flour after greasing for a sweet exterior. Set the oven to 175 °C (350°F).

In the plastic or stainless-steel whipping bowl with single wire whisks, beat the butter and sugar on high speed until fluffy and white. Add one egg at a time and beat together on medium-high speed. Mix the flour with the baking powder and all the spices in a separate bowl. Carefully fold the flour mixture into the batter on low speed. Pour in the milk and mix to a smooth batter on low speed.

Distribute the batter in the prepared pans and arrange the apple slices on top, gently pressing down into the batter. Sprinkle with chopped hazelnuts and bake in the middle of the oven for about 35-40 minutes. Allow the bases to cool before assembly.

In the plastic or stainless steel whipping bowl with the balloon whisks, whisk together all the ingredients for the mascarpone cream until soft peaks form. For a tangy frosting, add the lemon juice.

Place one cake layer on a platter or cake stand and top with 1/3 of the mascarpone cream, sprinkle with hazelnuts and drizzle with a little maple syrup. Repeat with the remaining layers, dust the top of the cake with more hazelnuts and drizzle with extra maple syrup and garnish with fresh flowers.

Tip! For quick room temperature butter, grate cold butter with a cheese grater and let sit for about 5 minutes.