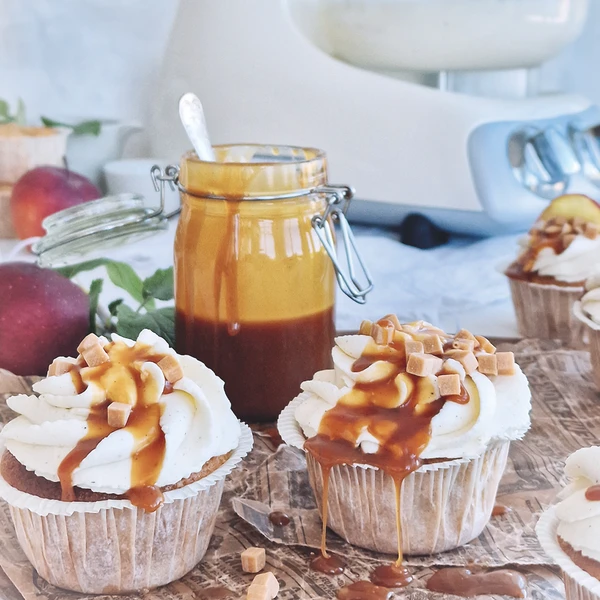 Ingredients
Dough
2 egg

180 g sugar

100 g oil

200 g milk

240 g wheat flour

1tbsp cinnamon

1tbsp vanilla sugar

1 pinch salt

2tsp baking powder

Ca 3 apples – Cut in small pieces
SALTED CARAMEL SAUCE
180 g sugar

50g butter

150g cream

1tsp salt
MASCARPONE CREAM
200 g mascarpone or cream cheese

300 ml cream

90 g Icing sugar

0,5 tsp vanilla powder
Apple cupcakes
Here is a recipe for delicious cupcakes with apples, salted caramel sauce and mascarpone cream.
Follow these steps - Dough

Set oven to 185°C (365°F).

Assemble Ankarsrum with beater bowl and balloon whisks.

Whisk eggs and sugar really fluffy and porous.

Add the oil and stir, then also add the milk.

Add all the dry ingredients and stir to a smooth batter.

Remove the bowl from the machine and add apple pieces and stir with a spoon.

Divide the batter into about 15 -16 large cupcake tins (American size).

Bake for approx. 20 min.

Since all ovens vary, check with a test stick that they are baked all the way through.

In the meantime, prepare the caramel sauce.

Follow these steps - Caramel sauce

Measure sugar and pour into a saucepan.

It is important that you have a thick-bottomed saucepan or a cast-iron pan here so that it does not burn.

Let the sugar melt and become golden brown while you stir, be careful it is very hot.

When the sugar has melted, remove from the plate and add the butter.

Add and then add the cream and salt.

Stir into a smooth caramel sauce and then put it back on the stove and let everything boil for a minute until you have a reasonably thick sauce (keep in mind that it thickens when it cools).

Cool before using for your cupcakes.