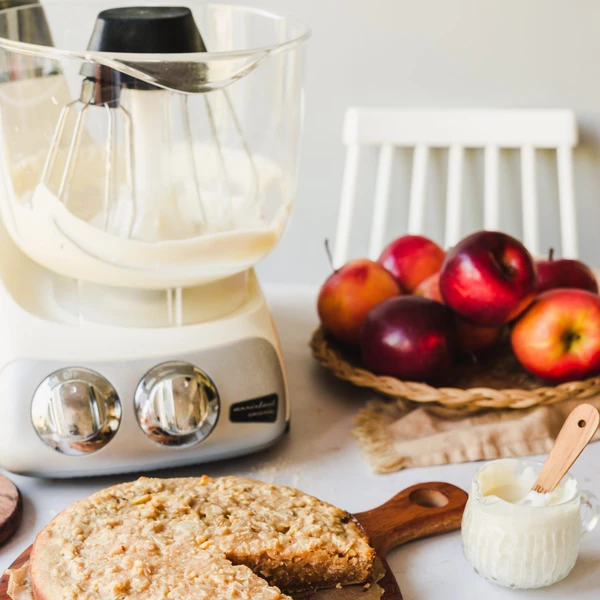 Ingredients
1 tsp oil or dairy-free butter to grease the pan

500 grams apples to make apple puree

250 grams all-purpose flour

80 grams almond meal

1 tbsp Ceylon cinnamon

1 tsp baking powder

¼ tsp salt

100 grams dairy-free butter, soft, not melted

100 grams granulated sugar

50 grams light brown sugar

50 grams almond flakes

10 grams dairy-free butter, softened

For serving: Whipped dairy-free vanilla sauce
Apple fudge cake
Enjoy the cake with the fluffy vanilla sauce.
Follow these steps

Preheat oven to 190 C / 375 F.

Prepare a springform pan (about 22 cm in diameter) by placing parchment paper onto the bottom of the pan and greasing the edges.

Cut 500 grams apples into wedges. You don't need to peel the apples or take the core away.

Bake the apples on a baking sheet for 20 minutes or until they have softened.

Assemble the Ankarsrum Assistent with the Strainer and strain the apple wedges into a thick puree. With 500 grams apples you should have about 250 grams apple puree.

Mix together the dry ingredients: the flour, almond meal, cinnamon, baking powder and salt.

Assemble the Ankarsrum Assistent with the bowl and the whisk.

Whisk the softened butter, granulated and light brown sugar on medium speed until you have a fluffy cream, for about 1 minute. Add the apple puree and keep on whisking on medium speed for about 30 sec.

Add the dry ingredients to the bowl little by little mixing on low speed for about 1 minute. Do not over mix the batter.

Take about 50 grams of the cake batter separately into a bowl and mix it with soft butter and almond flakes.

Spread the rest of the batter evenly into the prepared springform pan and spread the almond flake batter on top.

Bake the apple cake in the oven for about 25 minutes or until it is baked evenly. You can test the cake with a toothpick. If a lot of batter sticks to the toothpick, bake for another few minutes. The cake is supposed to be fudgy, smooth and soft when baked.

Let the cake cool in the pan for about 15 minutes before removing it.

Wash and dry the Ankarsrum Assistant bowl and whisks and pour the dairy-free vanilla sauce into the clean bowl.

Whisk the vanilla sauce on medium speed until fluffy and creamy, for about 1 minute.

Enjoy the cake with the fluffy vanilla sauce.