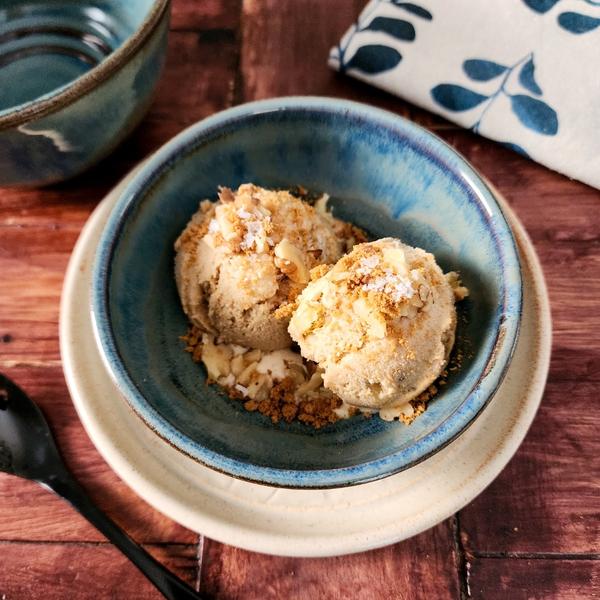 Ingredients
9 Biscoff cookies, plus 3 more for garnish

2/3 cup heavy cream

3-4 large egg yolks

¾ cup sugar, granulated

½ cup walnuts, crushed, plus more for garnish

Sea salt, flaky, optional for garnish
Biscoff Walnut Ice Cream
Indulge in creamy bliss with our Biscoff Walnut Ice Cream, where velvety Biscoff cookie butter meets crunchy walnuts in every luscious scoop.
Ahead of time:

Place Ankarsrum Freezer Bowl in the freezer for at least 20-24 hour.

Crush 9 Biscoff cookies to a fine 'breadcrumb' consistency.

Add the cookie crumbs to the heavy cream and milk, stir until thoroughly combined.

Cover and place into the fridge overnight.

Method:

Using the Whisk Bowl with Multi-Wire Balloon Whisk attachments.

Turn on the Ankarsrum and set the timer for 8 minutes and set speed to the 1 o'clock position.

Add 3-4 large egg yolks, then sugar. Allow to mix until combined, increasing speed to the 3 o'clock position for 2 minutes.

Now increase speed to the 5 o'clock position for 2 additional minutes, scraping down sides as needed.

Turn speed to the lowest setting.

Add cookie/milk mixture and mix for 2 minutes.

Increase speed to the 2 o'clock position for 3 minutes.

Increase speed again to the 3 o'clock position for an additional 5 minutes.

Let's have fun and crank up the speed to full throttle for a last 2 minutes.

Place mixture in the fridge.

Attach the Ice Cream Maker attachment on the Ankarsrum.

Start on a low speed and set timer for 12 minutes.

Remove ice cream mixture from refrigerator, slowly adding it through the lid opening.

Increase speed to the 3 o'clock position.

Let the ice cream churn for 20 minutes.

In the last 1-2 minutes, add walnuts.

Place Freezer Bowl Lid on the Freezer Bowl and place in the freezer.

To serve, top with crushed Biscoff cookies, chopped walnuts and a pinch of flaky sea salt.