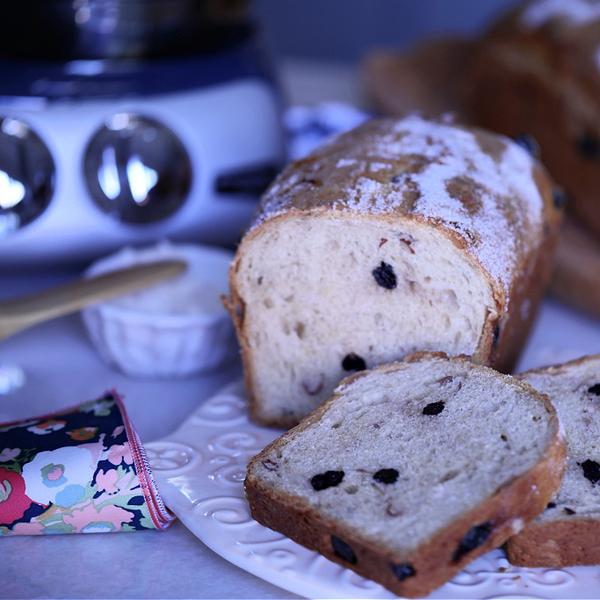 Ingredients
Dough Ingredients
135 g. (3/4 cup) dried blueberries

62 g. (1/4 cup) Amaretto

12 g. (1 Tbsp.) instant dry yeast

120 g. (1/2 cup) warm water, 100-105 F

123 g. (1/2 cup) whole milk, room temperature

2 large eggs, room temperature

107 g. (1/4 cup packed) brown sugar

115 g. (8 Tbsp.) unsalted butter, melted

530 g. (4 1/4 cups) bread flour

6 g. (2 tsp.) ground cardamom

10 g. (2 tsp.) kosher salt

50 g. (1/2 cup) sliced almonds
Topping:
1 large egg white

5 g. (1 tsp.) water

28 g. (2 Tbsp.) granulated sugar

0.75 g. (1/4 tsp.) ground cardamom
Blueberry Almond Cardamom Bread
Need a new weekend baking project? This enriched dough is full of dried blueberries soaked in Amaretto, sliced almonds and a generous sprinkling of cardamom. Topped off with cardamom sugar right before it bakes, these gorgeous loaves are a new breakfast favorite for the week.
Follow these steps:

Combine the blueberries and Amaretto in a small bowl. Let soak for at least one hour and up to overnight.

Line two standard size loaf pans with parchment paper or thoroughly grease. Set aside until ready to use.

In the stainless-steel bowl with the roller/scraper, combine the yeast, warm water, milk, eggs, brown sugar, melted butter and any excess Amaretto not absorbed by the blueberries.

Mix on medium-high speed (4 o'clock) until thoroughly combined.

Reduce speed to medium-low (2 o'clock) and gradually add in flour. Add in cardamom and salt. Once dry ingredients are absorbed, lock roller in place about 1/2 inch away from side of the bowl. Let knead for 25 minutes.

Once done kneading, add in almonds and blueberries. Mix until incorporated, approximately 30 seconds.

Gather dough into a ball, cover and let rise in a warm place for 30 minutes. Uncover dough and gently grab the outer edge of the dough and stretch and pull towards the center, working all the way around the dough to stretch and fold up into a ball again.

Cover dough and let rise again for another 30 minutes, then stretch and fold again. Repeat again for another 30 minute rise and another stretch and fold for a total of 1 1/2 hours rise time and 3 stretches and folds. After the third stretch and fold, cover the dough and let rise for a final 30 minutes (total of 2 hours rise time).

Turn dough out onto a floured surface and divide into 2 even portions. Shape into loaves and place in prepared pans. Cover and let rise until almost doubled in size, approximately 45 minutes to an hour.

Preheat oven to 350 F.

Whisk together the egg white and water in a small bowl. Combine the sugar and cardamom and set aside until ready to use.

Using a lame or very sharp knife, score the top of the bread. Gently brush the tops with egg wash and then sprinkle with cardamom and sugar mixture.

Bake for 40-45 minutes, until top is browned, loaves sound hollow when top is tapped and internal temperature has reached 200º F.

Let loaves cool in pans for 10 minutes, and then remove from pans to cooling racks to finish cooling.