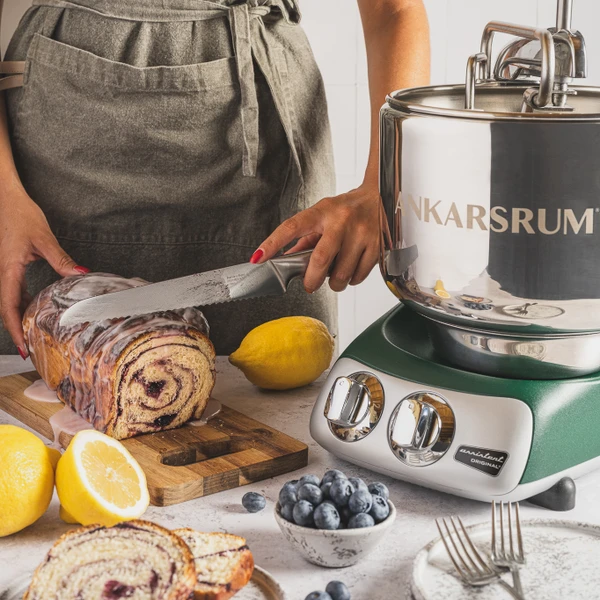 Ingredients
Tang Zhong/ pre-dough:
80 g milk

20 g flour (preferably Manitoba-flour)
Dough:
350 g flour (preferably Manitoba-flour)

50 g sugar

2 eggs (room temp.)

110 g milk (room temp.)

6 g salt

55 g butter (room temp.)

1 ½ tsp dry yeast

+ 1 egg to brush the dough with
Blueberry-filling:
200 g blueberries

90 g sugar

2 tbs lemonjuice
Lemon-glaze:
200 g icing sugar

2-3 tbs lemonjuice
Blueberry babka with lemon glazing
This beautiful pastry is perfect when you want to treat yourself to something really, really tasty!
Tang Zhong – pre-dough:

Whisk milk and flour in a saucepan until it thick and it turns like a paste formed and sticky texture (the paste should measure around 65°C). Transfer the paste in a bowl, cover with plastic wrap and let it cool in the refrigerator until room temperature.

Main dough:

Assemble the assistent with bowl, dough hook and dough knife.

Add flour, sugar, dried yeast and start the assistent on medium speed.

Add milk, eggs and the tang Zhong mixture and mix until combined (slow speed)

Add the salt and mix for 10 minutes on medium speed

Add the butter in smaller cubes, one at the time and mix up to 15-25 minutes until you can do the windowpane-test.

Brush a bowl with oil and transfer the dough into it and brush the dough gently with oil, cover with plastic wrap and leave it to proof for 2 hours

Make the blueberry filling by mixing blueberries with sugar and lemon juice in a saucepan until it becomes thick like a jam and leave it to cool

Put the dough in the refrigerator for about 30 minutes (so it will be easier to work with it) and then, on a floured board, roll out the dough in a square shape, around 35/38x35/38 cm

Spread the blueberry filling on the dough but leave around 1 cm around the borders. Roll it and gently transfer it on a baking sheet, cover it with a plastic wrap and put it in the refrigerator for about 20-30 minutes.

Cut the rolled dough in two halves (with the seam in the bottom) and then twist each half (with the cut side facing you) to form a plait and transfer it to a loaf pan with baking sheet (approx. dimension: 26x12 cm)

Cover with a plastic wrap and leave it to rise for about 1- 1 ½ hours

Brush the babka with a whisked egg and bake it for 40 minutes (until it reaches an inner temperature of around 90°C) in the oven (180°C). If you see that the babka is already golden brown before it is done you can cover it with an aluminum foil and leave it to bake until its done.

Let the babka cool on a rack and make the glazing by mixing the icing sugar with lemon juice and drizzle it over the babka.