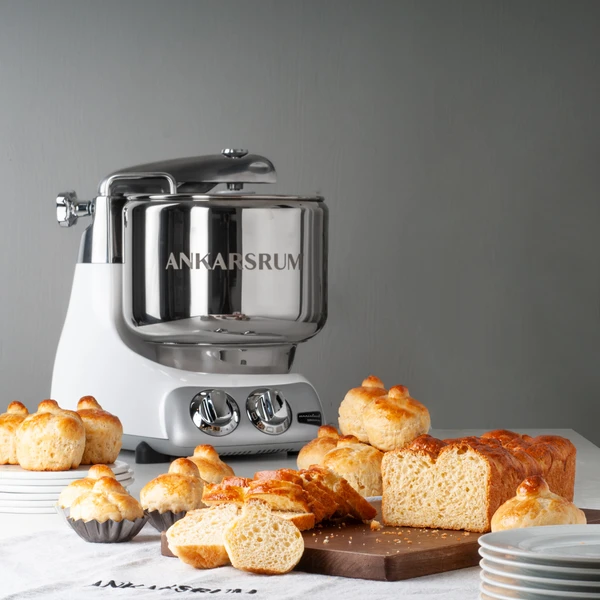 Ingredients
25 g yeast

150 ml milk

45 g sugar

3 tsp salt

6 eggs

about 600 g flour

250 g butter

Topping: 1 egg
Brioche
With Ankarsrum you can bake everything from sweet buns, desserts or cakes to all sorts of bread. Here is a recipe for delicious brioche bread.
Day 1

Assemble the assistant with bowl, dough knife, dough roller.

Dissolve the yeast in cold milk.

Add sugar, salt and eggs and mix.

Add flour and work for a few minutes on medium speed.

Divide the butter into smaller pieces and add while the machine is working. Run at medium speed for ten minutes until you have a sticky and smooth dough.

Put on the bowl cover and place in the fridge overnight.

Day 2

Take out the dough and quickly divide it into smaller parts.

For loaves, roll dough pieces into 12 buns and place in two rows on the baking pan.

For small loaves, roll the dough into buns and place in molds.

Let ferment to double size, about 1 hour.

Set the oven to 175 °C (347 °F).

Brush the loaves with beaten egg.

Bake loaves in the lower part of the oven for 20-30 minutes or until the bread has some color.

Bake small loaves in the middle of the oven for 10-15 minutes until colored.

Allow the bread to cool slightly in the molds before gently loosening them and allowing to cool completely on a wire rack.