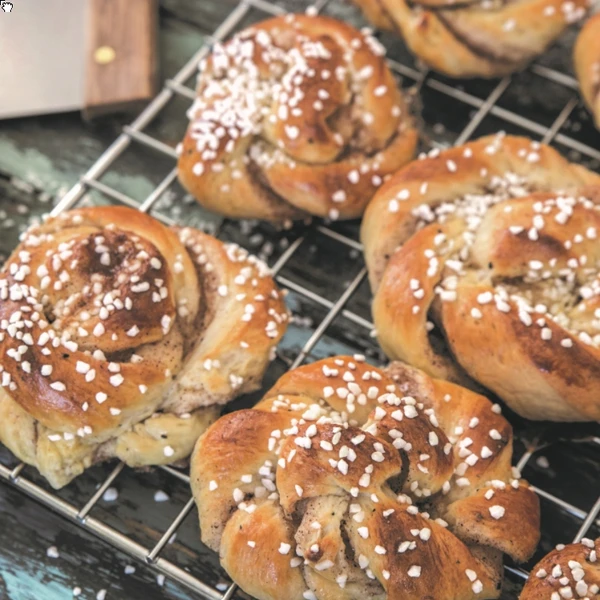 Ingredients
40 buns
500 ml

Milk (2 cups + 2tbsp)

5 tsp

Yeast (or 50 g fresh yeast)

10.5 tbsp

salted butter room temperature (150 g)

1.5 cup

sugar (100 g)

1

egg

0.5 tsp

Salt

2 tsp

ground cardamom

7 cups

bread flour (840 g)
Brushing
Filling
200 g

salted butter, room temperature (3/4 cup + 2 tbsp)

0.5 cup

sugar (200 g)

2 tbsp

cinnamon
Cinnamon Buns
There is something rather special about the scent of cinnamon buns. Warm, reassuring and absolutely delicious.
Dough

Assemble the Assistent with the stainless steel bowl, dough knife and dough roller.

In a small saucepan, heat the milk to 37°C (98°F) if fresh yeast or to 41°C (105°F) if dry yeast. DRY YEAST: Add the milk and yeast to the Assistent bowl and mix on low speed until just beginning to come together. Turn off the Assistent and let stand until foamy, about 10 minutes. FRESH YEAST: Crumble the yeast into the bowl, add the milk and start the Assistent, with the dough roller right next to the edge, at low speed until the yeast dissolves.

Add the butter, sugar, egg, salt and (if desired) the cardamom. Mix until combined

With the Assistent on low speed, add the flour, a little at a time. Pull the arm towards the middle of the bowl, as necessary, to help incorporate ingredients.

Increase speed to medium. Lock arm in place about 1 inch (2-4 cm) from the side of the bowl. Set the timer for 5 minutes and let knead.

Cover the bowl with the bowl cover and let it rise for 40 minutes.

Prepare the filling while waiting for the dough to rise.

Turn out the dough onto a floured surface and divide into two equal portions. Roll each portion into a 17x12 inch (45x30 cm) rectangle. Spread each rectangle with the filling and then fold in half so that each rectangle is now 17x6 (45x15 cm) inches. Cut into 1/2 inch (1 cm) wide strips. Twist strips and turn them into knots. Place on baking sheet lined with parchment paper. Cover and let rise for 40 minutes.

Preheat the oven to 225°C (435°F)

Brush the buns with egg and sprinkle with pearl sugar. Bake the buns in the middle of the oven for 5–10 minutes.

Cover the buns with a kitchen/tea towel and let cool on a wire rack.

Filling

Assemble the Assistent with the beater bowl and cookie whisks.

Add the softened butter, in small pieces, the sugar and the cinnamon.

Mix on low speed until thoroughly combined.

TIPS! Only your imagination sets the limits to how your buns will taste or look. For example, replace the cinnamon paste with hazelnut spread (see page 240) and voilà, you have chocolate-nut buns!