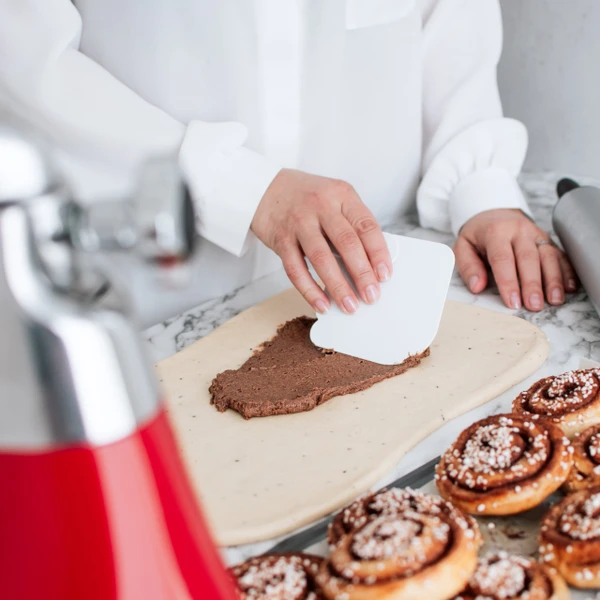 Ingredients
Wheat dough
150 g butter

25 g fresh yeast

500 ml milk or water

90 g caster sugar

2 tsp cardamom, freshly ground

780-840g wheat flour

½ tsp salt
Filling
150 g butter

90 g caster sugar

2 tbsp cinnamon
Topping (can be omitted)
1 egg

2 tbsp granulated sugar
Syrup:
90 g caster sugar

100 ml water
Classic cinnamon buns – cold yeast
Cinnamon buns are perhaps our most loved coffee bread. This recipe is easy to make and is cold ferment overnight!
Follow these steps

Day 1

Bring butter to room temperature, both for dough and filling.

Wheat dough

Assemble the assistant with dough roller and dough knife.

Crumble the yeast into the bowl and add cold milk or water. Stir so that the yeast dissolves completely.

Add sugar and flour. Work together on low speed for a minute or so.

Divide the butter into smaller pieces and add a little at a time while kneading. Lock the rolling pin a couple of centimeters from the edge and adjust the dough knife from time to time to scrape dough from the side of the bowl.

Set the timer for 10 minutes and knead the dough on medium speed.

Add salt and knead for a further 5-8 minutes until you have a glossy and flexible dough that comes away from the edges of the bowl.

Put the fermentation lid on and place the bowl in the fridge to ferment overnight.

Day 2

Filling

Whisk together all the ingredients for the filling until smooth and spreadable.

Baking

Place bun forms on trays.

Take the dough out of the fridge and divide it in half. After fermentation, the dough should be easy to work with without adding more flour. If you feel that it is sticky, you can use a little flour for shaping, the less the better.

Roll out one half into a rectangle, approximately 30 x 40 cm.

Spread half of the filling evenly over the entire dough surface.

Roll up lengthwise and cut approximately 2 cm wide pieces and place with the cut surface facing up in the bun forms.

Do the same with the other dough half.

Cover the buns and let rise until doubled in size, about 1 hour depending on the room temperature.

Set the oven to 250 °C (482°F)

Brushing

Brush the buns with milk or beaten egg, sprinkle with granulated sugar.

Syrup

Combine the sugar and water in a small saucepan. Cook over medium-low heat until sugar is dissolved. Set aside until ready to use.

Baking

Lower the oven to 225 °C (437°F) and wait ten minutes.

Bake the buns in the middle of the oven for about 5-8 minutes, the buns should have just turned color.

Brush immediately with icing sugar and transfer to a wire rack to cool.

Note! If you want to bake the buns without cold-proofing, you can double the amount of yeast, heat the dough liquid to lukewarm and let the dough rise for one hour under the lid before baking and one hour on a baking sheet.