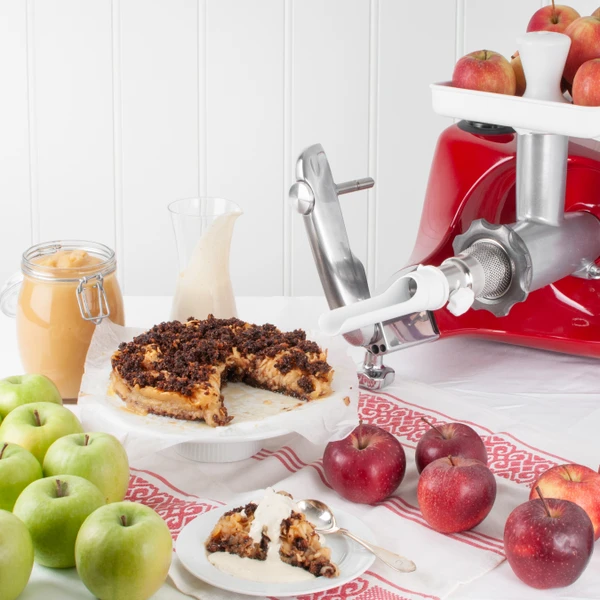 Ingredients
100 g black rye bread

500 g breadcrumbs

90 g raw cane sugar

1 tsp cinnamon

150 g butter

3 apples

345 g apple puree
Vanilla sauce
200 ml cream

2 egg yolks

2 tbsp sugar

½ tsp vanilla powder
Classic Swedish apple cake
Bake a classic Swedish apple cake with breadcrumbs and apple puree! Tip! Make your own breadcrumbs with dry bread in the blender
Follow these steps

Set the oven to 185 °C (365 °F) put a parchment paper in a baking pan.

Assemble the assistent with the blender.

Mix black rye bread into a fine crumb. Mix with breadcrumbs, sugar and cinnamon.

Melt 150 g butter in a frying pan, add the breadcrumbs and fry until the bread has a little bit of color and is slightly crispy.

Roughly peel and grate the apples.

Pour half of the breadcrumbs into the baking pan and press down evenly into the bottom.

Assemble the assistent with the strainer and make apple puree.

Add the apple puree and top with grated apple. Sprinkle over the rest of the breadcrumbs.

Bake the cake in the middle of the oven for about 30 minutes.

Allow to cool slightly and serve with home made vanilla sauce.

Vanilla sauce:

Assemble the assistant with beater bowl and balloon whisks.

Whisk the cream firmly.

Add remaining ingredients and whisk smoothly.