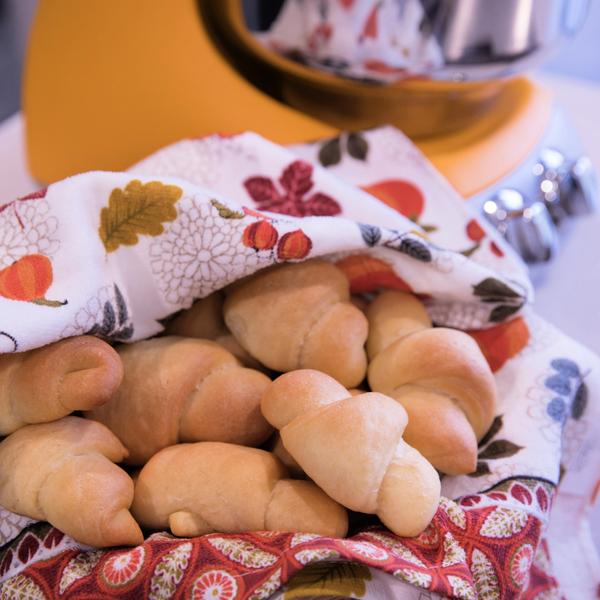 Ingredients
120 g (1/2 cup) warm water, 100°-105° F

130 g (1/2 cup) buttermilk, room temperature

115 g (1/2 cup) unsalted butter, room temperature

1 large egg, room temperature

42 g (3 Tbsp) granulated sugar

9 g (2 1/4 tsp) instant dry yeast

480 g (4 cups) all-purpose flour

5 g (1 tsp) kosher salt

43 g (3 Tbsp) salted butter, melted
Crescent Rolls
Pillowy soft, slightly sweet, buttery rolls known as Crescent Rolls. A perfect accompaniment to any holiday feast or party!
Follow these steps

Line two half sheet pans or cookie pans with parchment paper or silicone baking mats.

In the stainless-steel bowl with the roller/scraper, add the first 6 ingredients and mix on medium speed (3 o'clock) until combined.

Reduce the speed to low (1 o'clock) and slowly add in the flour. Add in the salt.

Increase the speed slightly (2 o'clock) and lock the arm in place about 3/4 inch from side of bowl.

Set the timer to knead for 12 minutes.

Once kneaded, gather the dough in a ball, cover, and let rise until doubled in size, approximately 1 - 1 1/2 hours.

Turn the dough out onto a clean work surface and divide into 2 equal portions. Roll each portion into a circle 12 inches in diameter. Using a pizza cutter or a sharp knife, cut each circle into either 8 OR 12 equally sized wedges, depending on what size rolls you want. 12 wedges per circle will yield rolls that are more of an appetizer size than dinner size roll. Starting at the widest end of edge wedge, roll up into a cylinder.

Place rolls on prepared pans, spacing apart to give room to rise and making sure the narrow tip of the wedge is underneath to keep the rolls from coming apart as they bake. Cover and let rise until almost doubled in size, approximately 45 minutes to 1 hour.

Preheat oven to 350° F.

Bake rolls for 15 minutes, rotating pans halfway through for even baking. Brush the salted melted butter on the tops of the rolls and continue baking for another 5-7 minutes until golden brown on top.

Let cool for at least 10 minutes before serving. Can be served warm or at room temperature.