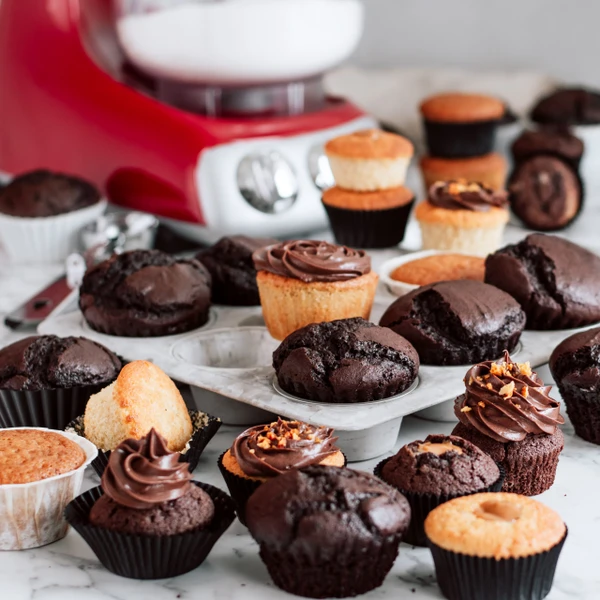 Ingredients
2 eggs

180 g caster sugar

150 g of butter, room temperature

100 ml of milk

210 g flour

2 tsp of vanilla sugar

2 tsp baking powder

(20 g cocoa if you want chocolate muffins)
Filling
130 g dulce de leche or other caramel sauce
Frosting
75 g of butter, room temperature

200 g cream cheese

180 g of icing sugar

20 g cocoa
Cupcakes with caramel and frosting
Dreamy Cupcakes with both filling and frosting!
Follow these steps:

Muffins:

Place 12 muffin tins in a muffin tray. If you do not have such a sheet, use double paper forms.

Set the oven to 200 °C/392 °F.

Beat eggs and sugar till fluffy.

Melt the butter and add together with the milk.

Mix flour, baking powder, (possibly cocoa) and vanilla sugar and add to the mixture.

Divide the batter into the molds and bake in the middle of the oven for 10-12 minutes or until a skewer comes out dry.

Leave to cool on a baking rack under a baking cloth.

Filling:

Hollow out the middle of the muffins with a tulle or a knife.

Spoon or pipe caramel sauce into the muffins.

Frosting:

Beat butter on medium-high speed until light in color.

Add cream cheese, cocoa and icing sugar, beat fluffy. If it gets too loose, you can put it in the fridge for a while.

Pipe or spread the frosting on the muffins.