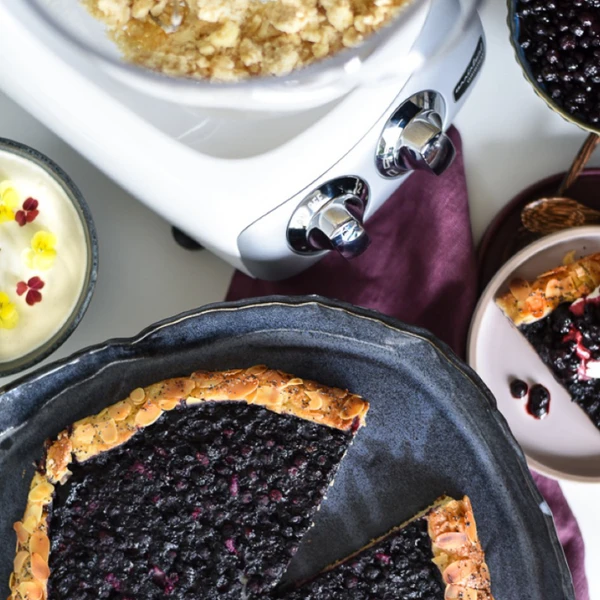 Ingredients
Dough
150 g butter

210 g flour

2 tbsp icing sugar

½ tsp salt

3 tbsp lemon juice or cold water

2 tsp cardamom
Filling
200 g almond pulp

75 g butter (room temperature)

1 small egg (50g)

90 g sugar

2 tsp blue poppy seeds

1 tsp cardamom

½ lemon, juice and grated peel

1 pinch of salt
Blueberry Filling
90 g sugar

2 tbsp cornstarch

250 g frozen blueberries

Brushing: 1 beaten egg
Garnish: Flaked almonds Blue poppy seeds
Galette with blueberries, cardamom and lemon
Tips on a tasty cake to serve at your next summer party!
Folllow these steps

Assemble the assistent with the beater bowl and the cookie whisks.

Mix flour, icing sugar, cardamom and salt, cut the butter into pieces and mix into the flour mixture. Whisk until the dough is crumbly. Pour in lemon juice and whisk a little more. Let the dough rest in the fridge for at least 30 minutes.

Mix the almond paste with all ingredients for the filling. Taste with lemon, it should be quite sour. Paste and set aside.

Mix blueberries with sugar and cornstarch, set aside.

Set oven to 180 °C (356 °F) hot air.

Roll out the dough on a baking sheet paper to a round piece, about 3 mm thick. Use a large plate as a template and cut. Spread out the filling, about 4 cm from the edge. Pour the blueberries on top of the filling. Fold the edges over the blueberries. Brush the edge with whisked egg and sprinkle with almond.

Bake the galette in the middle of the oven for 25-30 minutes, until it has a nice color. Serve it lukewarm with vanilla ice cream or vanilla sauce.