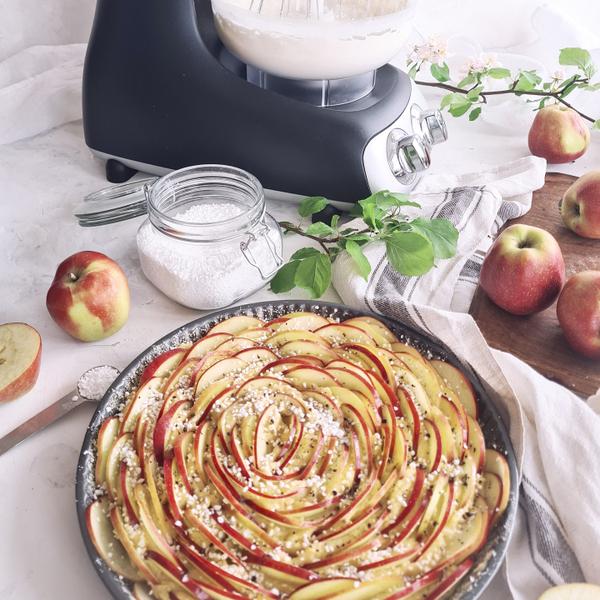 Ingredients
400 g almond mass

150 g room temperature butter

3 eggs

180 g almond paste

35 g brown sugar

1.5 g salt

1 tbsp vanilla sugar

2 tsp cardamom

3-4 apple (thinly sliced)

Pearl sugar to sprinkle as a decoration when baking.
Gluten-free apple cake
Gluten-free apple cake. Bake an apple cake with some of the garden's apples!
Follow these steps

Assemble the assistent with beater bowl and cookie whisks.

Whisk room temperature butter with almond paste and brown sugar for 3-5 minutes

Add 1 egg at a time while whisking at medium speed.

Add almond paste, flour, salt and vanilla sugar and whisk for 1-2 minutes just so that all the ingredients are mixed together and then pour the batter into a greased and breaded baking pan that is about 20-23 cm

Slice apples thinly (to prevent them from getting dark, you can add a little lemon).

Now press the apple slices into the batter in a circular shape so that the whole cake is shaped like a rose.

Sprinkle with freshly ground cardamom and a little pearl sugar.

Bake at 165 °C (329 °F) for about 35-40 minutes or until the cake is fully baked.

Keeps juicy for several days but is often eaten a little lukewarm together with vanilla sauce or ice cream.