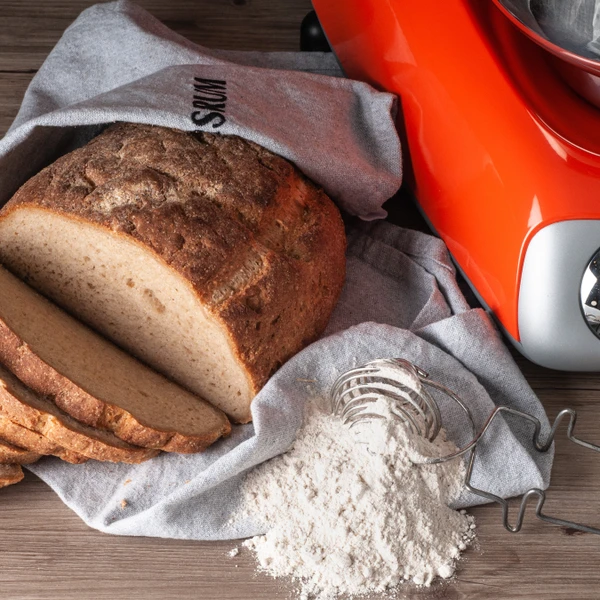 Ingredients
25 g yeast

400 ml milk

200 ml water

90 g rapseed oil

2 tbsp syrup

½ tbsp salt

50 g psyllium husk

188 g buckwheat flour

110 g corn starch

110 g oat flour

50 g common millet

1 egg
Gluten-free bread
Of course, it is also possible to bake gluten-free with Ankarsrum, then we recommend that you use the dough roller. Here is a recipe for a cold-fermented gluten-free bread that is perfect for breakfast or snacks.
Day 1

Assemble the assistent with bowl, dough roller and dough knife.

Mix cold milk with water, dissolve the yeast.

Add oil, syrup, salt and psyllium husk.

Mix buckwheat flour, corn starch, common millet and oat flour. Work the dough on medium speed for five minutes.

Add the egg and mix. It's a bit sticky.

Put on the bowl cover and place in the fridge overnight.

Day 2

Set the oven to 250 °C (482 °F). Put baking sheet paper on baking pan.

Shape the dough into a loaf on the baking sheet paper. Bake in the lower part of the oven for 20 minutes.

Lower the heat to 175 °C (347 °F) and bake for another 20-25 minutes or until the bread sounds hollow when you tap the underside of it.

Allow the bread to cool completely on a wire rack before slicing.