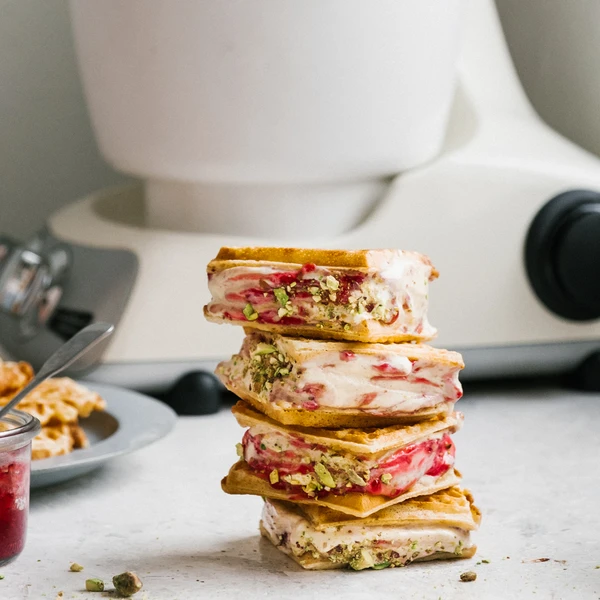 Ingredients
Ice cream
4 egg yolks

100 g sugar

100 g cream

200 g milk, 3%

½ tsp vanilla essence or 1 vanilla bean (seeds)

50 g raspberry jam

Chopped pistachios for topping (optional)
Waffles 4 psc
120 g flour

1 tsp baking powder

1 egg

200 ml milk

50 g melted butter
Ice cream sandwiches
Recipe for Homemade waffle ice cream sandwiches. You can use what flavors and toppings you prefer! Our recipe is with vanilla and raspberries.
Follow these steps - Ice cream

Place the freezer bowl in the freezer for at least 20 hours.

Assemble the assistent with beater bowl and balloon whisks

Whisk egg yolks and sugar on medium speed for a few minutes until fluffy.

Add vanilla, milk and cream and mix. Set in the fridge alt in the freezer for 20 min until the batter is really cold.

Assemble the assistent with the ice cream machine. Add the ice cream batter through the opening in the lid. Let the machine run at medium speed in 25-30 minutes. Pour into a mold and swirl with the raspberry jam. Put in the freezer for at least 6 hours.

Follow these steps - Waffles & assembly

Mix flour and baking powder with the balloon whisks. Add eggs and milk. Whisk to one even batter. Add the butter.

Heat the waffle iron. Brush with a little butter and add the waffle batter. Let cool, preferably on a wire rack.

Divide the waffles into 4 parts. Take out the ice cream from the freezer. Place ice cream between each waffle and spread the ice cream in an even layer. Top with chopped pistachios and immediately eat or freeze again until its time to enjoy!