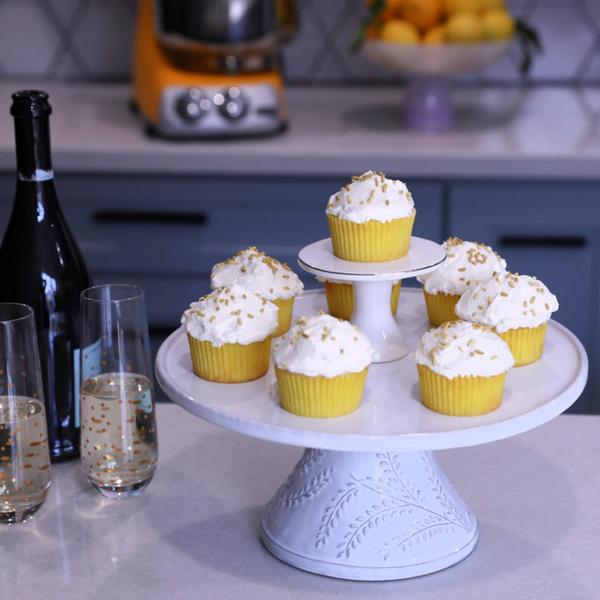 Ingredients
Lemon Curd:
6 large egg yolks

171 g. (3/4 cup) granulated sugar

generous pinch kosher salt

136 g. (1/2 cup) fresh lemon juice

43 g. (3 Tbsp.) unsalted butter
Cupcakes:
173 g. (12 Tbsp.) unsalted butter, room temperature

342 g. (1 1/2 cups) granulated sugar

3 large eggs, room temperature

240 g. (2 cups) all-purpose flour

2.5 g. (1/2 tsp.) kosher salt

8 g. (2 tsp.) baking powder

zest from 1 medium size lemon

228 g. (1 cup) brut Prosecco
Whipped Cream:
460 g. (2 cups) heavy whipping cream

76 g. (2/3 cup) confectioners' sugar

76 g. (1/4 cup) brut Prosecco
Optional ingredients: Colored sanding sugar or sprinkles for decorating tops.
Lemon Proecco Cupcakes
Lemon Prosecco Cupcakes, filled with lemon curd and then topped with Prosecco whipped cream. Cheers to brilliant mixer colors and baking away in the kitchen.
Follow these steps:

Lemon curd:

In a small saucepan, mix together the egg yolks and sugar with a wooden spoon until thoroughly combined. Stir in salt and lemon juice and place over medium low heat. Cook, stirring constantly, until mixture thickens and coats the back of a spoon, approximately 8-10 minutes.

Pour mixture through a strainer and into a heat proof container. Whisk in butter. Place a piece of plastic wrap directly on the surface of the lemon curd to prevent a skin from forming as it cools. Place in refrigerator until completely cool. Remove plastic wrap and cover with a lid. Store in refrigerator until ready to use. Will last for up to 2 weeks in the refrigerator.

Cupcakes:

Preheat oven to 350 F. Grease 2 regular size 12 cup muffin pans or line with 20 cupcake paper liners.

Set up the Ankarsrum mixer with the plastic whipping bowl and the single wire whisks. Cream the butter and sugar on high speed (6 o'clock) for 3 minutes. Add the eggs and cream another minute, stopping and scraping down sides as needed.

In a small bowl, whisk together the flour, salt, baking powder and lemon zest.

Reduce mixer speed to low (1 o'clock) and add in half of flour mixture. Add in half of Prosecco, then remaining flour mixture, and then remaining Prosecco. Increase mixer speed to medium (3 o'clock) and mix just until all ingredients are combined.

Divide batter evenly among 20 of the muffin cups in the two prepared muffin pans. Bake for 18-20 minutes, until center is just set and a toothpick inserted in the middle of a cupcake comes out clean. Let cupcakes cool in pans for 5 minutes, and then remove to a cooling rack to finish cooling.

Whipped cream:

In the plastic whipping bowl with the balloon whisks, beast the cream on a low speed, gradually working up to a medium speed as it begins to froth and thicken. Gradually add in the powdered sugar and then turn speed up to high (6 o'clock) and beat until cream starts to hold its shape. Add in Prosecco and whip until fully incorporated.

Assemble cupcakes:

Using a small melon baller or 1/2 tsp. measure, scoop out the center of each cupcake. Fill with lemon curd and then cover and frost top with whipped cream. Decorate with sprinkles or sanding sugar if desired. Because of the whipped cream, any leftover cupcakes should be stored in the refrigerator.