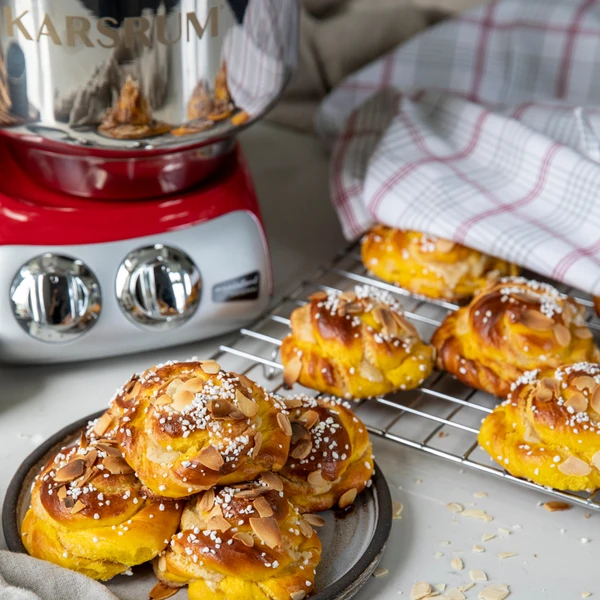 Ingredients
Dough
500 ml milk

50 g yeast for sweet doughs

1 g saffron

1 tsp sugar

200 g room temperature butter

1 tspsalt

180 g sugar

840 g flour
Filling
200 g almond paste

100 g butter

2 tbsp powdered sugar

2 tsp vanilla sugar
Brushing and decoration:
1 egg

70 g grated almond

60 g powdered sugar
Luxurious saffron buns
At Ankarsrum we love this time of the year. Celebrate Lucia with these luxurious saffron buns.
Follow these steps

Warm the milk to 37 °C (99 °F)

Crumble the yeast in the dough bowl with a dough knife and dough roll and stir with the milk.

Grind the saffron with 1 g sugar, mix into the dough liquid.

Add butter, salt, powdered sugar and almost all wheat flour, save a little for baking. –Set timer for 10 minutes.

Put on the fermenter lid and leave to ferment to double size, about 40 minutes

While the dough is rising, grate the almond and mix with the butter, sugar and vanilla sugar.

Roll out the dough into a large rectangle on a lightly floured baking sheet, spread on the filling and fold long side to long side.

Cut strips of about 2 cm. Twist and spin with the end under the bun.

Place the buns on a sheet of parchment paper. Leave to rise covered with a kitchen towel for 30 minutes. Set the oven to 250 °C (482 °F) .

Brush with beaten egg and sprinkle with almonds and powdered sugar.

Bake in the middle of the oven for 6-8 minutes until the buns are golden.

Let cool on a wire rack under a kitchen towel.