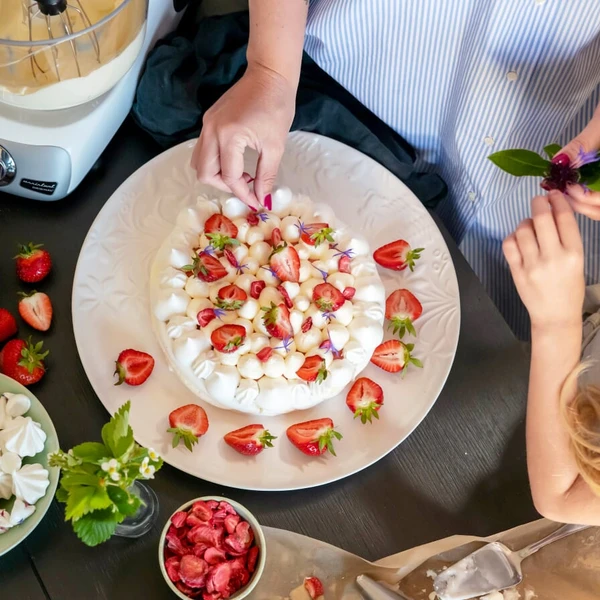 Ingredients
Meringue Bases
7

egg whites

180 g

sugar

240 g

icing sugar
Strawberry curd
1

gelatine leaf

300 g

puree of frozen strawberries

90 g

sugar

2

eggs

0.5

lemon (juice)

100 g

unsalted cold butter in cubes
Filling & Garnish
500 ml

whipped cream

1 tbsp

sugar

1

box fresh strawberries

fresh flowers
Pavlova with strawberry curd
Strawberry cake with meringue – a summer classic
Follow these steps

Put the gelatine leaf in cold water.

Boil the strawberries with sugar and mix smoothly, strain and pour back into the saucepan. Add the eggs and stir constantly on medium heat until the batter thickens a little, or until the batter reaches 80°C (176 °F).

Strain the batter and add the gelatine, stir and pour into the lemon juice. Allow to cool slightly before mixing in the butter until you have a smooth cream. Apply directly to the surface and place in the refrigerator for at least 2 hours.

Place the oven at 80°C (176 f) hot air and prepare two plates with baking sheet paper. Draw a circle on each, perfect to use plate as a template.

Assemble your assistent with beater bowl and balloon whisks.

Whisk the egg whites to a hard meringue and add the sugar in three rounds, continue whisking until you have a firm and glossy meringue.

Sift the icing sugar in batches and invert with the spatula to maintain the air.

Pour 1/3 of the meringue into a spiral bag of any large tulle. Spread the rest of the meringue on the baking sheet paper, spread out in the circle. Sprinkle a wreath of meringue peaks on one of the furthest edges.

Bake for about 1 ½ - 2 hours, turn off the oven and allow the bases to dry at least one hour in the oven. The meringue can also stand in the oven overnight and dry.

Take out the strawberry curd and whisk.

Assemble your assistent with beater bowl and balloon whisks.

Whisk the cream and sugar until it is lightly whipped, pour the cream into a spiral bag of round large tulle. Slice some of the strawberries and share the rest in the middle.

Carefully remove the smooth meringue base and place on a barrel. Sprinkle an edge with cream and spread out a thin layer of cream inside. Then spread a thin layer of strawberry curd and add the sliced strawberries.

Add the next base and spread out a layer of strawberry curd and sprinkle the cream into fine peaks. Garnish with half strawberries and fresh flowers.