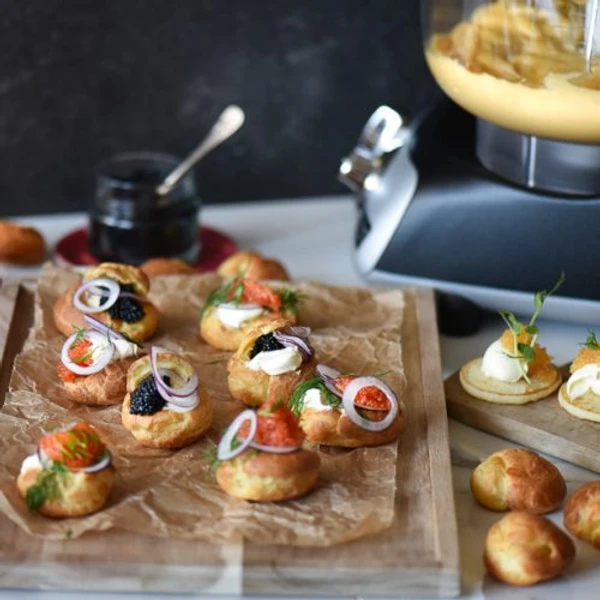 Ingredients
125 ml

milk

125 ml

water

0.5 tbsp

salt

0.5 tbsp

sugar

125 gram

diced butter

150 gram

flour

4

eggs (4-5)
Filling
Smetana

Optional roe

Sliced or chopped red onion

Fresh dill
Petit Choux
Petit Choux is a great snack to serve at a barbecue while waiting for the burgers to get ready! Vary the filling and everyone can get their favorite!
Follow these steps

Heat the milk together with water, sugar, salt and butter in a saucepan. When the first bubble appears, remove the pan from the stove

Add the flour to the milk mixture little at a time, and mix. Place the pan on the stove again and stir constantly with a wooden spoon until the dough is shiny.

Assemble the assistent with the beater bowl and balloon whisks.

Add the dough and allow to cool slightly.

Add eggs and whisk. Add the eggs one at a time into the dough while whisking. It is important that each egg is fully incorporated into the batter before adding more eggs. If the batter is too thick then add more eggs.

When you have a smooth batter, fill a bag, and cut a small hole at the edge, or use a piping bag. Pipe small balls, 2-3 cm large, on a plate covered with baking sheet paper. Do not pipe them too tightly, they will rise in the oven.

Set oven to 175 °C (347 °F). Bake in the center of the oven for about 20-30 minutes, until golden brown.

Vary the filling and everyone gets their own favorite!