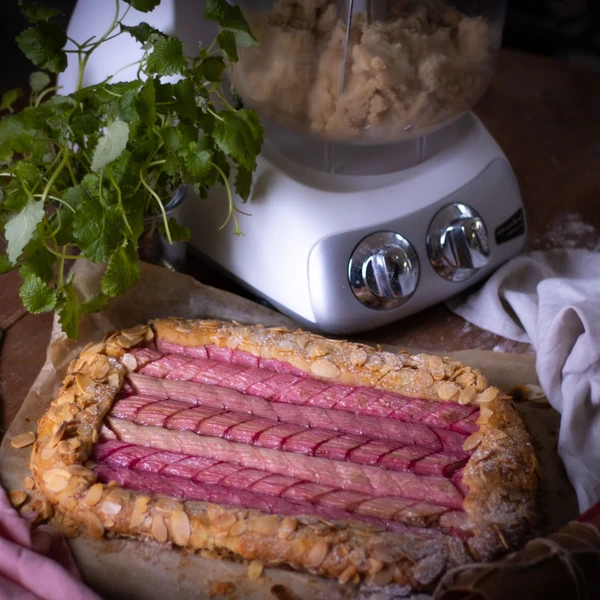 Ingredients
Pie dough
175 g cold butter (diced)

210 g flour

45 g powdered sugar

1 ml salt

3 tbsp cold water
Almond cream with cardamom
200 g almond paste

50 g room temperature butter

1 egg yolk

2 tbsp sugar

30 g flour

1 tsp cardamom
500 – 600 g rhuburb

1 beaten egg

2 tbsp cane sugar

50 g almond flakes
Rhubarb galette
Galette art with rhubarb, almonds and cardamom made by Hilda Kirkhoff - The winner of the Great Swedish Bake off.
Follow these steps - Pie dough

Set the oven to 175 °C (347 °F) (hot air).

Assemble the assistent with beater bowl and cookie whisks.

Add cold diced butter, flour, powdered sugar, salt and water. Mix until it is a crumbly dough, about 5 minutes.

Wrap the dough and refrigerate for at least 30 minutes.

Follow these steps - Almond Cream

Assemble the assistent with beater bowl and balloon whisks.

Grate almond paste and place in the beater bowl. Add room temperature butter, egg yolk, powdered sugar, flour and cardamom. Whisk together to a lump-free cream, about 5 minutes on medium/high speed.

Follow these steps - Assembly

Slice the rhubarb into optional shape. A tip is to put the pattern you want on a baking sheet paper before you put it on the galette. Dare to be creative and create your own pattern.

Remove the pie dough from the refrigerator and place between two baking sheet papers. Roll it into a thin dough and then remove one of the baking sheet papers.

Spread the almond cream on the pie dough but keep about 5 cm of the edges. Place the pattern you want with the rhubarb on top of the almond cream.

Fold over the pie dough and brush the edges with a beaten egg. Sprinkle with cane sugar and almond flakes.

Bake in the oven for 25 - 30 minutes (one step up from the bottom of the oven). The edges should be golden brown and the rhubarb soft.

Serve your galette with vanilla sauce or lightly whipped cream. Yummy!