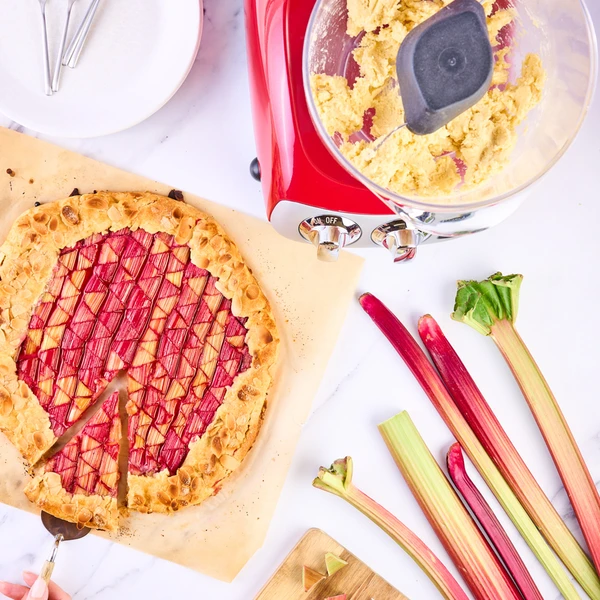 Ingredients
190 g flour

1 tbsp icing sugar

A pinch of salt

150 g cold salted butter

3 tbsp water
Egg wash:
Frangipane filling:
200 g almondpaste

1 egg

15 g butter

1 tbsp flour
500 g rhubarbs

½ lemon juice

2 tbsp sugar

1 tbsp potato starch

50 g almond flakes

3 tbsp cane sugar
Recipe rhubarb galette
Rhubarb Galette is one of the most beautiful desserts and are meant to look rustic, so there is no need to line a tin.
Follow these steps - Dough

Assemble the assistent with the beater bowl and cookie whisks.

Mix flour, icing sugar and salt.

Add the butter cut into small cubes and mix on medium speed.

Add the water and mix until water is absorbed.

Wrap the dough with a plastic sheet and let it cool in the refrigerator for at least one hour (or over the night).

Follow these steps - Frangipane:

Grate the almond paste and mix it together with 1 egg, butter and flower in the beater bowl using the balloon whisks, mix until you have a cream.

Wash the rhubarbs (and peel if needed), cut them in the shape you wish to have them.

Mix them with lemon juice, sugar and potato starch and let them rest for about 20 minutes before using them on the pie.

Pour some flour on a baking sheet paper and use a rolling pin to roll the dough into an approximately 5 mm thin circular shape.

Spread out the frangipane (start from the center and keep around 3 cm on the edges.

Place the rhubarbs on top of the frangipane.

Fold over the edges and brush the edges with an egg wash, sprinkle some almond flakes and cane sugar before you put the pie into the oven to bake for about 25-30 minutes in 180 °C (356 °F).