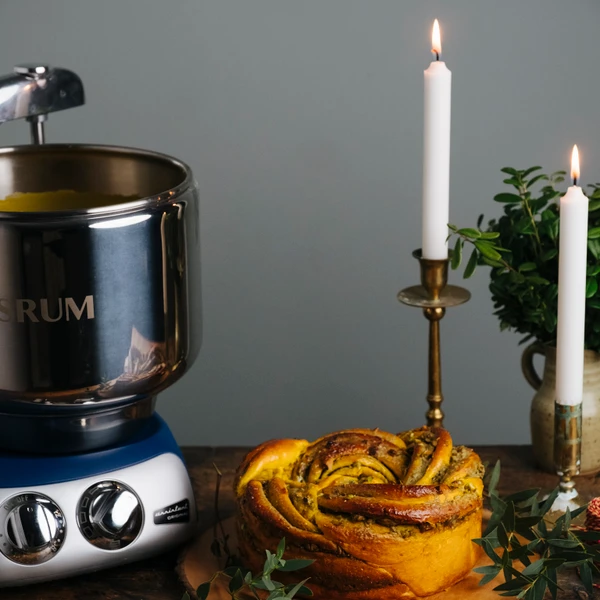 Ingredients
Dough
150 ml milk (3%)

1 g saffron

4 tbsp sugar

25g fresh yeast

125 g room temperature butter

2 room temperature eggs

360-420 g flour
Filling
200 g pistachio cream

65 g chopped pistachios

45 g sugar
Syrup
Saffron and pistachio babka
A delicious saffron and pistachio babka that everyone will love.
Follow these steps - Dough

Assemble the assistent with bowl, dough roller and dough knife.

Heat the milk with the saffron and sugar until it is 37 ° C (98.6℉). Remove from the heat and pour in the assistent together with the yeast.

Pull the dough knife back and forward a couple of times to dissolve the yeast. Add butter, eggs, flour and salt. Work the dough for about 10 min in the machine on medium speed.

When the dough is elastic, glossy and begins to drop from the bowl, it is ready. Let ferment covered in the refrigerator for at least 8 hours.

Pour the dough on a floured table and roll out into a rectangle about 25 x 40 cm. Spread out the filling (pistachio cream, chopped pistachios and sugar) but leave an edge about 2 cm on one long side. Roll up the dough from the opposite long side.

Divide the roll lengthwise into two parts with a sharp knife and turn the cut surface upwards. Braid the parts together and then shape into a wreath. Carefully lift over the wreath to a round baking mold and leave to rise covered for 1 hour.

Follow these steps - Syrup

Boil sugar and water until the sugar dissolves. Let cool.

Follow these steps - Baking

Set the oven to 200 ° C (392℉)

Bake the wreath in the lower part of the oven for about 25-30 minutes until it gets a nice color, check with a stick that it is baked. Brush the wreath with syrup immediately when it comes out of the oven and let cool.