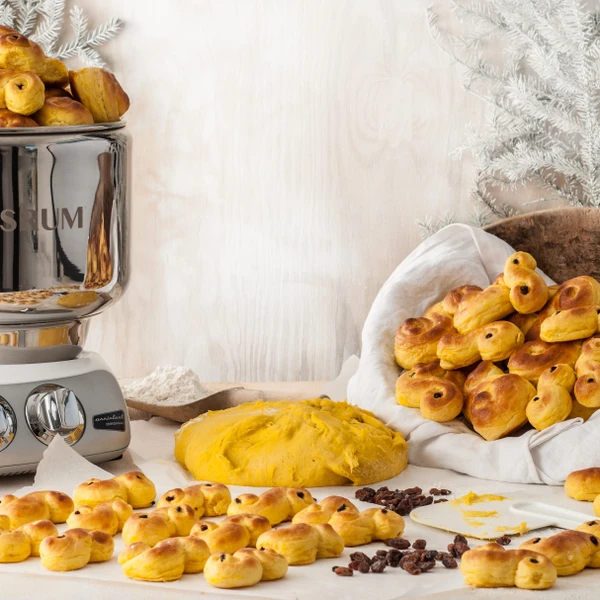 Ingredients
Dough 1
50 gram

salted butter

500 ml

mjölk

50 gram

fresh yeast

1 tsp

salt

1 tbsp

sugar

750 gram

flour
Dough 2
1 gram

saffron

1 st

sugar lump

125 gram

room temperature butter

135 gram

sugar

1 st

egg

300 gram

flour
Saffron Buns
Time to bake saffron buns for Lucia. There is something special about these buns for Christmas, don´t you think?
Follow these steps

Set oven to 225-250°C (435°F).

Crush saffron and sugar lump in a mortar.

Assemble the assistant with beater bowl and cookie whisks.

Mix room temperature butter and sugar in the beater bowl.

Add egg and saffron.

Add dough 2 into dough 1 and blend them together with the dough roller.

Add the rest of the flour.

Make saffron buns and place on baking sheet lined with parchment paper.

Add raisins and let them rise for 30 minutes.

Brush the buns with egg.

Bake in the oven for 7-9 minutes.

Let cool down on a wire rack.