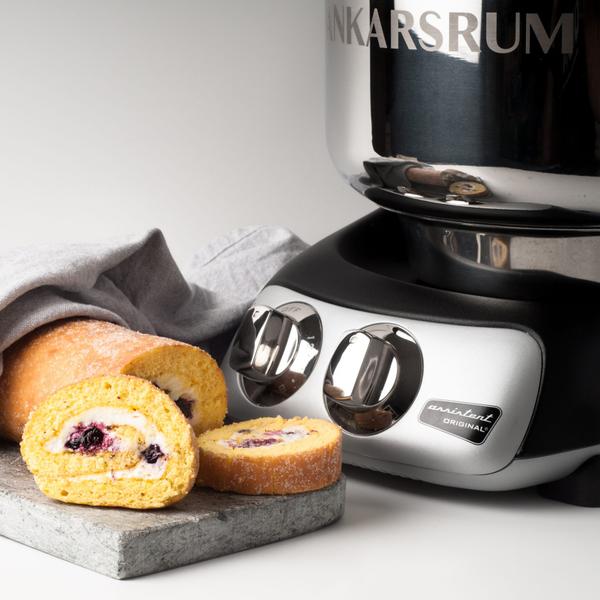 Ingredients
Roll cake:
½ g saffron

1 tbsp rum or lemon juice

3 eggs

150 g sugar

120 g wheat flour

1 tsp baking powder
Filling:
250g mascarpone

60 g icing sugar

1 tsp lemon juice

140 g blueberries
Saffron roll cake
A juicy and tasty roll cake with saffron, mascarpone and blueberries. Easy to make and tastes incredibly good!
Follow these steps:

Roll cake:

Set the oven to 250 °C (475°F), line a jelly roll pan with parchment paper.

Grind the saffron and mix with rum or lemon juice, let it sit and infuse.

Beat eggs and sugar together in the plastic or stainless-steel whipping bowl with the balloon whisks on medium-high speed until light and airy.

Add the saffron.

Mix wheat flour and baking powder, gently fold into the egg and sugar mixture.

Pour the batter into the prepared pan onto a baking sheet, bake in the middle of the oven for a maximum of 5 minutes. Keep a close eye on cake while baking to ensure it doesn't burn.

Take out and sprinkle icing sugar all over the cake, put another baking sheet on top, turn upside down then remove the parchment paper. Leave to cool slightly under a cloth.

Filling:

Whisk together mascarpone, icing sugar and lemon juice in the plastic whipping bowl with the balloon whisks.

Spread evenly on the cake, sprinkle with blueberries and roll up lengthwise. Make sure the seam is facing down.

Cover with foil and store the roll cake in the fridge before serving.