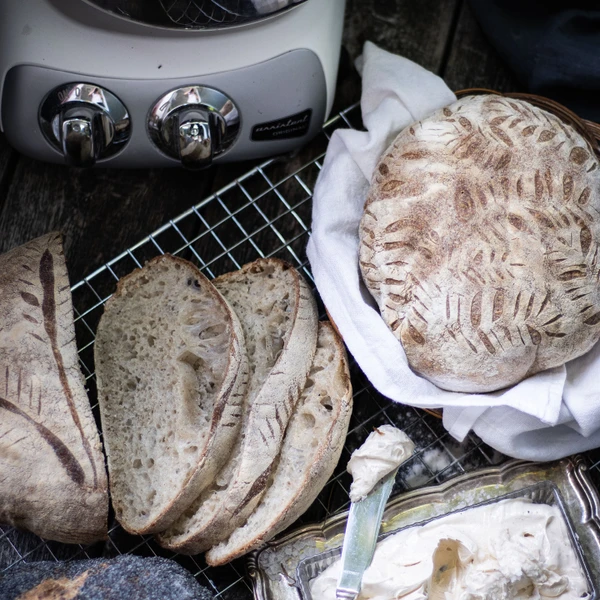 Ingredients
250 g sourdough, fed the night before

990 g flour

600 ml cold water

20 g salt

Ev. dried spices as seasoning

Seeds for topping
Whipped browned sugar:
200 g butter

½ tsp sea salt

Ev. lemon
Sourdough bread
Delicious sourdough bread served with whipped browned butter
Follow these steps

Sourdough bread: Assemble your kitchen assistant with the bowl, dough roller and dough knife.

Add sourdough, flour and water to the dough bowl. Work the dough on medium speed for 10 minutes.

Add the salt and work the dough for another 5 minutes

Place the bowl cover on the bowl and leave the dough to rise for 30 minutes. Fold the dough from edge to edge in the bowl. Put the bowl cover back on and leave to ferment for another 30 minutes.

Repeat this process three times.

When you have finished the folding process, place the dough on a lightly floured surface. Do not knead the dough but divide it into 2 to 3 equal parts.

Shape into round loaves.

Put a kitchen towel in a fermentation basket and flour a little bit. Put the dough in the fermentation baskets bottom side up.

Place in the fridge and leave to rise overnight. The breads can be fermented for two to three days in the fridge, so bake gradually when you want freshly baked bread.

Baking: Set the oven to 270 °C (518 °F) hot air.

Remove the bread from the fridge and turn out of the basket. Brush off excess flour and cut a pattern with a sharp razor blade. Or brush with a little water and dip the bread in the seeds.

Bake the bread for about 20-30 minutes depending on how big the bread is, the temperature should be 96 °C (205 °F) .

Allow to cool on a wire rack.

Whipped browned butter: Put the butter in a saucepan and brown until golden.

Place in a bowl, set in the fridge and allow to set completely.

Remove the butter and whisk using the whisk bowl and balloon whisks. Season with a little sea salt and possibly a little lemon juice.