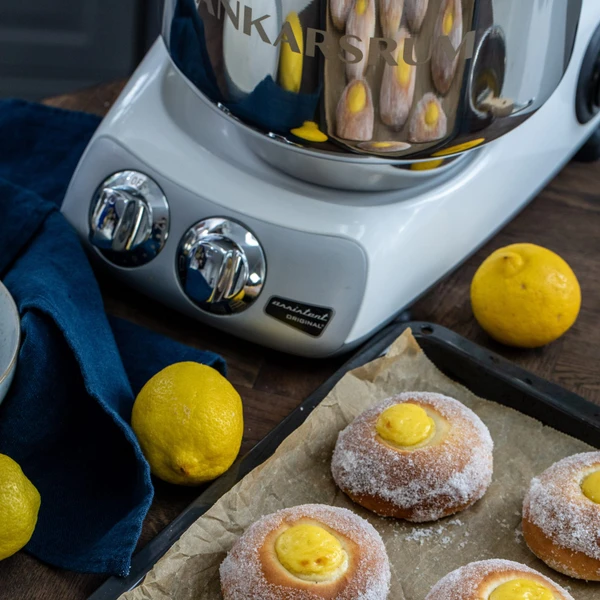 Ingredients
Dough
500 ml milk

50 g fresh yeast (or 20g instant yeast)

150 g granulated sugar

2 tsp cardamom, freshly ground

1 tsp salt

780-840g wheat flour

150 g butter, room temperature
Pastry cream
250 ml milk

½ vanilla bean

3 egg yolks

zest from one lemon

75g granulated sugar

2 tbsp cornstarch

25 g butter
Topping
50g butter

150g granulated sugar
Sun buns
Let the sunshine in with sun buns made with a lemon and vanilla pastry cream.
Follow these steps

Dough

Heat up the milk to 37°C (100° F)

Assemble the assistant with the dough roller and dough knife.

Crumble the fresh yeast or add instant yeast into the bowl and add the milk, start the machine on low speed.

Add sugar, cardamom, salt, flour, and the butter to the bowl.

Set the timer for 10 minutes and knead the dough on medium speed. Add the lid and let the dough rise for 30 minutes.

Pastry cream

In a double boiler, heat up the vanilla beans and the milk, let it cool down for 15 minutes.

In a bowl mix together yolks, sugar, cornstarch and lemon zest until combined. Slowly add the vanilla-milk.

In a double boiler, heat the mixture on low-medium heat while stirring. Must not start boiling.

Remove the bowl from the heat, remove the vanilla bean and add the butter. Strain the pastry cream and let it cool down.

Baking

Divide the dough into 24 pieces and shape to smooth buns. Add them to a baking pan. Let the buns rise until they have doubled in size, about 30 minutes.

Preheat the oven to 225 °C (450° F)

Make a pit into the buns and add the pastry cream.

Bake for 8-10 minutes in the middle of the oven.

When the buns have cooled down, melt the butter and sprinkle some sugar on to them.