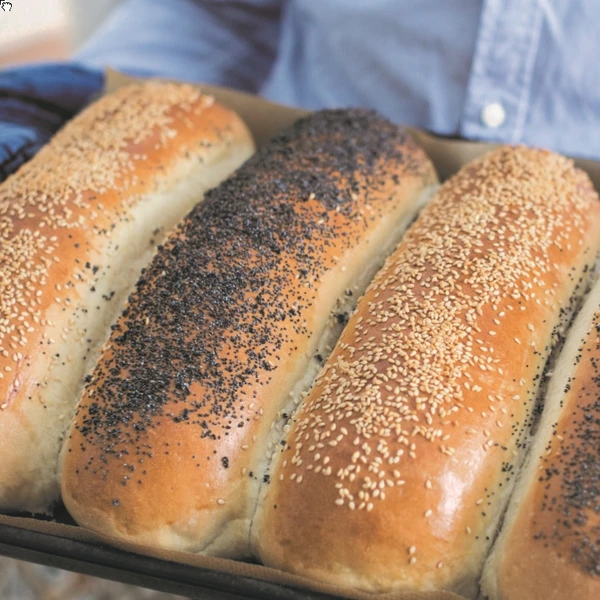 Ingredients
4 loaves
4.25 cups

milk (1000 ml)

100 g

fresh yeast

7 tbsp

sugar

1.5 tbsp

salt

12 cups

bread flour (1440-1560 g)

0.25 cup

salted butter, melted (60 g)
Brushing and decoration
1 egg

lightly beaten

Poppy seeds or sesame seeds
Toast bread
Perfect for slicing into individual pieces and keeping in the freezer. Pull out as needed, toast, and have the taste of freshly baked bread whenever you want! If the top of the bread is browning too quickly, position an oven rack above the bread and place a baking sheet on the rack to shield from heat. No aluminum foil needed!
Follow these steps

Assemble the Assistent with the stainless steel bowl, dough knife and dough roller.

In a small saucepan, heat the milk to 37°C (98°F) if fresh yeast or to 41°C (105°F) if dry yeast. Dry yeast: Add the milk and yeast to the Assistent bowl and mix on low speed till beginning to combine. Turn off the Assistent and let stand until foamy, about 10 minutes. Fresh yeast: Crumble the yeast in the bowl, add the milk, and run the Assistent on low speed, fixing the dough roller next to the edge. Run until yeast is dissolved.

Add butter, sugar, salt and 1/2 of the flour. Mix on low speed until dough begins to come together, pulling the arm towards the centre as needed, to help incorporate ingredients. Slowly add remaining flour until 1 cup is left. If dough is too sticky, add a little flour at a time until a soft, but not sticky, dough is achieved.

Lock the arm in place 1-2 inches (2-4 cm) from edge of bowl.

Adjust speed to medium. Set the timer for 8 minutes to knead.

Put the cover on the bowl and let the dough rise until doubled in size, 30 minutes to 1 hour.

Turn out the dough onto a floured surface and divide into 4 equal portions. Shape each portion into a loaf and place on a baking pan lined with parchment paper.

Brush the sides of the loaves with melted butter, making it easier to separate them after baking.

Cover and let them rise for 20 minutes.

Preheat oven to 225°C (425° F).

Brush with egg and sprinkle with poppy or sesame seeds. Bake in the lower part of the oven for 30 minutes or until golden brown.

Cover the bread with a kitchen/tea towel and let cool on a wire rack.