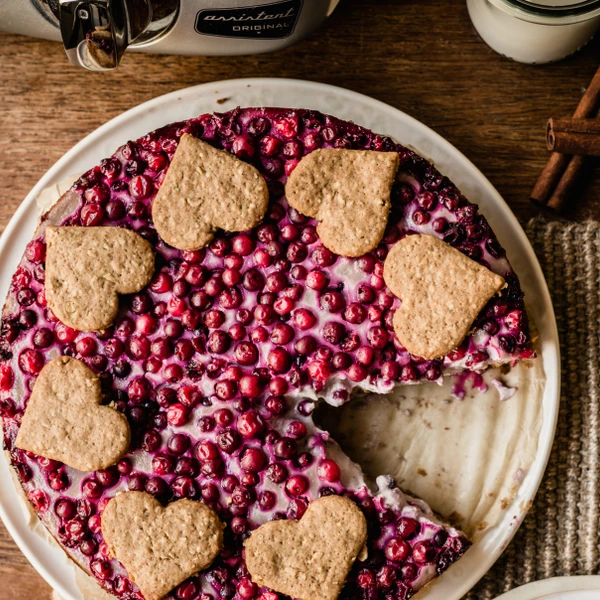 Ingredients
165 g cashews, unsalted and not roasted
Crust
130 g all-purpose flour

50 g rolled oats

3 tsp Ceylon cinnamon

½ tsp baking powder

½ tsp salt

120 g light brown sugar

100 g vegan butter, soft, room temperature

50 ml plant-based milk such as oat milk
Filling
soaked, drained and rinsed cashews

250 g plant-based yogurt such as berry flavored soy yogurt

50 g granulated sugar (or more if needed)

1,5 tbsp lemon juice

zest of 1 medium size lemon

pinch of salt

120 g frozen lingonberries
Cookies
100 g crust dough + 15 g flour

For serving: plant-based whipped cream
Vegan cheesecake with lingonberries
A vegan cheesecake for Christmas with lingonberries! Both beautiful and delicious
Follow these steps

Soak the cashews in just-boiled water for 15 minutes.

Preheat oven to 200 C / 390 F.

Prepare a springform pan (about 20 cm in diameter) by placing parchment paper onto the bottom of the pan.

Mix the dry ingredients in a bowl: flour, rolled oats, cinnamon, baking powder and salt.

Assemble the Ankarsrum Assistent with the bowl and the whisks.

Whisk the softened butter and light brown sugar on medium speed until you have a fluffy cream, for about 1-2 minutes.

Add the dry ingredients to the bowl little by little mixing on low speed for about 1 minute.

Pour plant-based milk to the bowl and continue mixing on low speed until the dough comes together.

Set 100 grams of the dough aside and press the rest into the springform pan. Pre-bake the crust for 5 minutes.

Assemble the Ankarsrum with the blender.

Blend the soaked, drained and rinsed cashews on high speed together with the yogurt, sugar, lemon juice, lemon zest and pinch of salt. Blend for 2-3 minutes or until the mixture is smooth.

Pour the silky cheesecake filling on top of the pre-baked crust. Decorate with lingonberries and bake for another 25 minutes. Note: the cheesecake will firm up when chilled.

In a bowl, mix the 100 grams of dough with the flour to get a smooth cookie dough. Knead with your hands if needed.

Roll the cookie dough into a thin layer on a gently floured surface and take out heart-shaped cookies with a cookie cutter. Bake for 10 minutes.

Decorate the cheesecake with the cookies.

Whisk plant-based whipped cream with the Ankarsrum bowl and balloon whisks on medium speed for about 2 minutes or until fluffy.

Enjoy the vegan cheesecake with whipped cream after it has firmed up (either overnight or a few hours in the refrigerator).