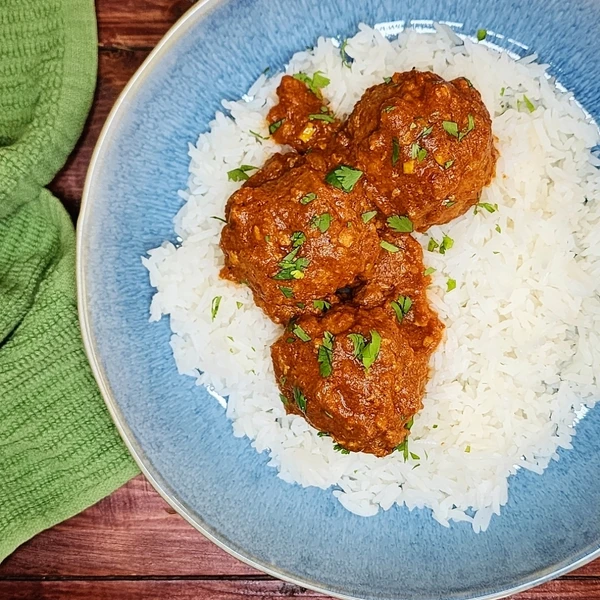 Ingredients
Meatballs:
1 lb ground chicken

1 tsp salt

¼ tsp black pepper, ground

1 tsp garam masala

2 TBS Greek yogurt

1 large egg

¼ cup panko breadcrumbs

1 TBS tomato paste

2 TBS cilantro, chopped
Sauce:
2 TBS neutral oil

½ tsp paprika(not smoked)

¼ tsp cinnamon

½ tsp ground coriander

2 garlic cloves, minced

½ tsp turmeric

14oz can crushed tomatoes

1" knob of ginger, minced

1 TBS garam masala

½ cup chicken broth

1/4 cup heavy cream
Chicken Tikka Masala Meatballs
Enjoy a fusion of flavors with our Chicken Tikka Masala Meatballs, where juicy chicken meatballs are bathed in a rich and spicy tomato cream sauce, creating a mouthwatering twist on a classic favorite.
Method - Meatballs

Preheat oven to 400 degrees Fahrenheit.

Place the Ankarsrum with the Stainless Steel Beater Bowl and Whisk attachments.

Using the left knob, turn on the Ankarsrum to the 4 o'clock position. Turn the right knob to the 2 o'clock position for the speed.

Add ground chicken to the Beater Bowl and mix for 20 seconds. Add remaining meatball ingredients, one at a time while the Ankarsrum continues mixing to combine well.

Turn off the Ankarsrum and set meatball mixture to the side.

Form meatball mixture into 2-3" balls and place on a foil lined baking sheet, leaving some space in in-between.

Bake for 20-25 minutes until slightly golden brown. Remove and set aside.

Method - Sauce

In a sauté pan over medium heat, add oil.

Add diced onion and sauté until slightly translucent, then add garlic and ginger, stir, cooking for an additional minute.

Now add tomato paste and mix well and cook for 2-3 minutes while going back and forth from stirring to pausing.

Mix dry seasonings for the sauce ingredients in a small bowl.

Add spice mix to the pan with onions, garlic, ginger and tomato paste. Sauté for 3 minutes, stirring occasionally.

Add crushed tomatoes and chicken broth to the pan and mix thoroughly.

Arrange cooked meatballs in the pan with the sauce, nestling them in.

Cover and simmer for 20 minutes.

Remove lid and add heavy cream, stirring well to combine.

Sauté for another 3 minutes and turn off the heat.

Serve over a bed of your favorite rice. Jasmine rice works very well here. Garnish with cilantro leaves.