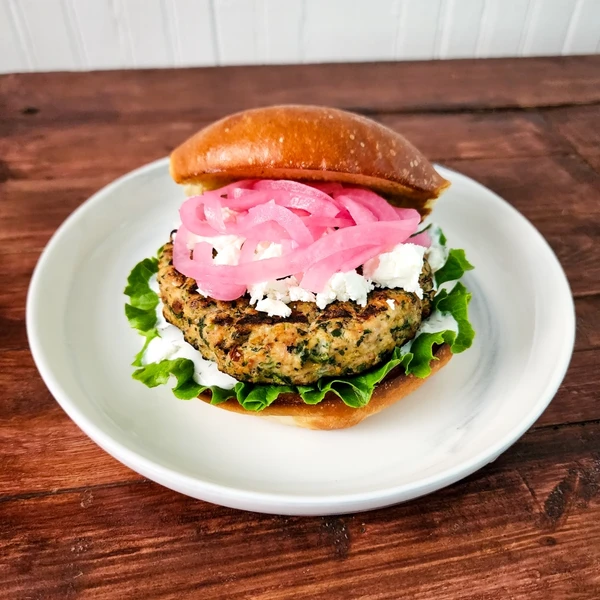 Ingredients
2/3 lb chicken breast, boneless and skinless

2/3 lb chicken thighs, boneless and skinless

1 cup frozen spinach, thawed and drained well

1/2 cup red onion, finely diced

1/2 cup sun dried tomatoes, diced

3/4 cup feta cheese, diced or loosely crumbled

1 large egg, whole

1/3 cup panko breadcrumbs

1 tsp each- dried dill, dried oregano, garlic powder

Salt and ground black pepper
Mediterranean Chicken Burger
Savor the Mediterranean flavors with our succulent Chicken Burger, featuring tender chicken patty, aromatic herbs, and zesty toppings, all tucked into a fluffy bun.
Method:

Attach the meat grinder to the Ankarsrum base.

Using the left knob, turn on the Ankarsrum.

Turn the right knob to the 3 o'clock position.

Start adding the chicken breast and thigh meat into the meat grinder feed tube. Alternate between the chicken, spinach, red onion, sun dried tomatoes, and feta cheese.

Transfer the mixture to a large mixing bowl.

Add the egg, breadcrumbs, seasonings, to the same bowl and mix thoroughly.

Using about ½ cup of the chicken mixture, form into burger patties.

Grill or pan fry the burger patties, season with salt and ground black pepper to taste, cook thoroughly.

Serve on your favorite toasted bun.

Serving suggestion: lettuce, pickled red onions, crumbled feta cheese and/or Tzatziki sauce.